EUR sets up nicely with a better than 5:1 reward to risk to begin October. No significant European economic news releases to keep us out. This familiar pattern set up after a quiet Asian session enabling us to enter the trade and progressively move our stop loss level to "take profit" as the EUR stair-stepped upward forming higher lows and reaching our Target 1.
This was an excellent trade to start the short week. I do not trade on Non Farm Payroll days…so I will not be trading the UK session on Friday.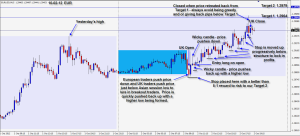 Keep in mind that China is off all week and the Asian session may be more subdued as a result. This bodes well for the UK session trading.
Good luck with your trades!