GBP sold off ahead of the UK economic news releases. Once the news was out, it moved back up. After the higher low, we entered long, on the opening of the next candle with a stop just below the higher low. We are risking 16 pips for a potential reward of 58 pips…Target 2. This meets our minimum criterion of 3:1 reward to risk.
Our first level of concern will be the Asian session high and then yesterday's high. Price moves through both but closes back below yesterday's high. We chose to lock in 30 pips for a "take profit" level and the trade is closed. Due to this level being where breakout longs will enter, and we are not breakout traders, we protect our profits and move on. As I said yesterday, we will take 30 pips any day.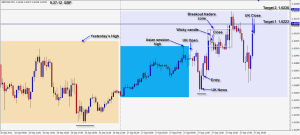 Let's see what opportunities tomorrow will bring us.
Good luck with your trading!