After a great day for all the majors yesterday, their trading was a bit more subdued today. The EUR was particularly reactive to news and with 2 back-to-back candles of over 60 pips each, I looked elsewhere for a trade setup. The stop loss placement and target areas don't qualify for the reward to risk ratio criterion under such circumstances.
The CAD has not had a great trading range lately and it tends to move more when the North American traders are active. Overnight it offered up a very low risk trading opportunity after a very nice pullback.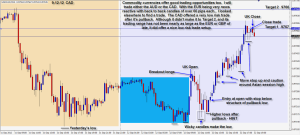 Holidays are over and the currencies are active once again. Be very cautious around news releases always.
Good luck in your trading!
Back tomorrow.