Keeping your eyes on Swing Highs and Swing Lows is very revealing of trend continuation and reversal. Although I intraday trade from the 15 minute chart, I like to look at the 60 minute chart for clues as to how the daily trends and reversals are shaping up.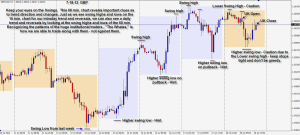 Three days in one direction and a reversal is quite common. Let the charts reveal their clues… learn how to read them – NOT useless ambiguous lagging indicators.
Good luck in your trading!