Be very careful trading Sundays/Mondays…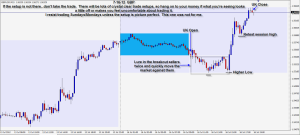 Always be very selective in trading your setups, but be especially careful on Sundays/Mondays. I used to be very eager to start the week off by finding a trade to take. I learned over time that it was better to be patient and that better trades are found Tuesday through Friday. If I miss a trade on Sunday/Monday, it doesn't bother me at all.
Questions are welcomed.
Great trading this week.
Michael