GBP offered a slow and steady short overnight. The session was a little unusual in that the breakout sellers were not punished. One day a week or about 20% of the time breakout traders get off easy and don't get eaten by the Whales. Eighty percent of the time this will not be the case so DO NOT BE A BREAKOUT TRADER!
Recognizing a small stop was all that was needed to enter short after the intial pullback – after the UK session began, followed by 2 hours of consolidation, an entry is taken. Both targets are hit.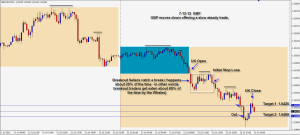 Let's see what Friday brings us.
Questions are welcomed?
Good luck with your trading. Keep in simple.
Michael
www.privateforexcoaching.com