I'm starting this blog to share some forex trading tips for those that are interested.
Trading is an extremely difficult profession! Most retail traders make it much harder than it needs to be because 99% of indicators available for charting are useless, completely unnecessary and distracting for the trader. After wasting a number of years experimenting with different indicators, I paid handsomely to learn trading from one of the largest traders in the world – a man who still puts on trades of $20-$50 billion dollars at a time.
I will share some of the tips and tricks that are paramount to trading success in this blog.
Most trading days you will find a chart that I will post after the UK market closes. Make sure to look at the various chart examples and read the comments to learn some trading tips and tricks.
Keep it simple! Be consistent with your method. Avoid complicated indicators, complicated patterns, large stop losses and news trading. These are typically the downfall of new and struggling traders. Don't waste your money on fancy software. A free MT4 platform is all you need for charting along with a reputable, service oriented forex broker for trading.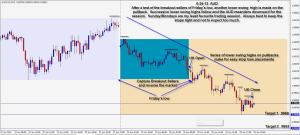 Good luck with your trading!
Questions are always welcomed.