It was a quiet week leading up to the FOMC rate increase… that had already been priced into the market.  The charts were looking a little ambiguous  prior to the announcement but now with the USDX strength, the pairs are aligning nicely for trending moves.
The EUR moved up briefly in the early part of the U.K. session before rolling over to close below yesterday's low.  A short is taken with a 23 pip stop loss for a potential 90 pips to our Target.  Price moved down and paused just above its Asian low before dropping 47 pips in one 15 minute candle.  We cautiously protected some of the move and continued to do so as price extended further.  When price began to retrace we are closed at our profit stop where our Target 1 would lie.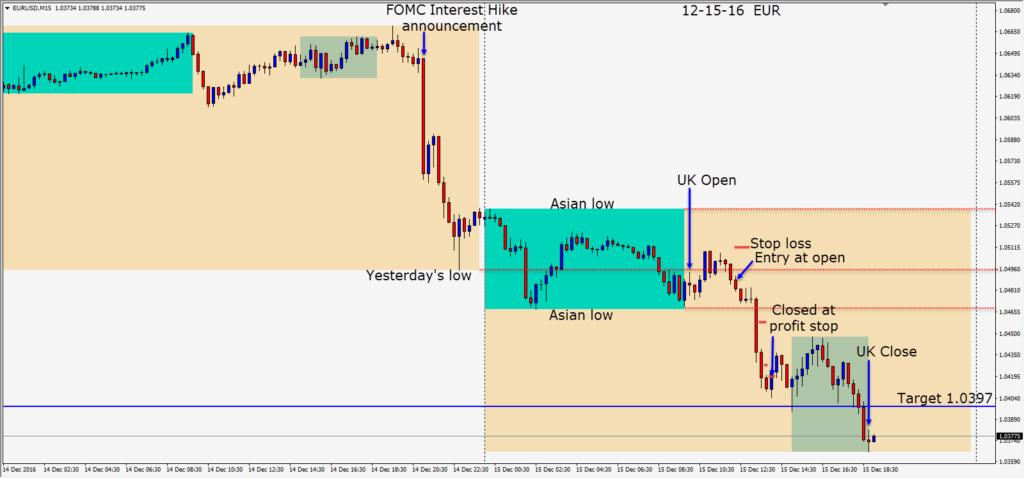 The EUR was the easiest of the majors to read today and required the smallest SL.  The JPY chart is looking very nice too.    With the interest rate increase finally behind us, and the markets appearing to be buying into "Trumponomics" … next year looks like it's shaping up to be an exciting year for trading.  The question for traders is whether we will see 2 or 3 interest rate increases in the U.S. in 2017?  According to Bloomberg's Fed probability calculator, chances of a third hike in 2017 currently lies at 48% – up 9% since Tuesday.
Good luck with your trading!