Fading a rally in a downtrend is an opportunity for institutional traders to add to their core positions. After 3 days of moving counter-trend the EUR was unable to take out the 1.2500 figure. The UK traders immediately reversed the Asian move higher – as they began their trading day.
After the third lower high for the day (a powerful signal), a short is taken with a stop of 15 pips for a potential 65 pips to our Target 2.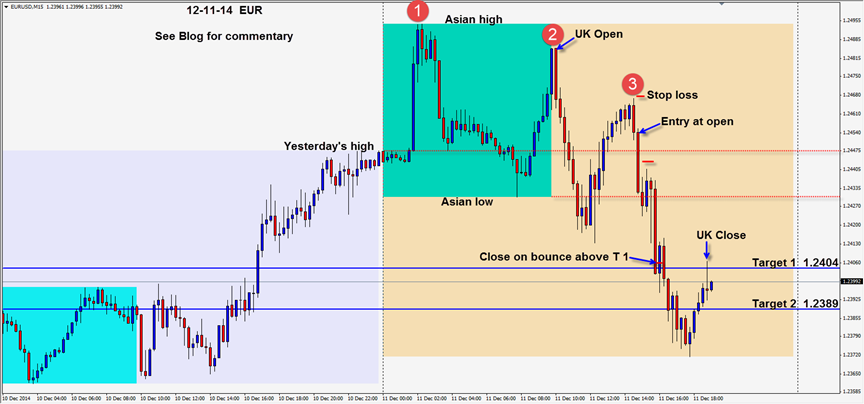 Price dropped to the Asian lows in advance of the pending US news. We move our stop loss to a profit stop and wait for the market's reaction to the US figures. Price drops to our Target 1 where we choose to lock in profits just above… allowing for some wiggle room. Price takes us out and moves lower without us.
There were a variety of nice trade setups to choose from this session. The EUR was my favourite as the 1.2500 level was formidable and the 1,2,3 pattern to follow meant the Big Boys and Girls were back in short. In other words…strong hands taking money from weak hands.
Good luck with your trading! The year is not over yet.
Be selective, keep your stops tight and don't be greedy.
Back tomorrow if we find a trade.