Another very active Asian session for the AUD and NZD. As mentioned yesterday, my preference is to find a reversal when this happens. An hour into the US session, a reversal sets up and an entry long is taken with the intention of getting to the Asian session high. The high also corresponds with our Target 2 and gives us a 2:1 Reward to Risk ratio setup, which is acceptable for this time of day.
The AUD and NZD often move in lock-step. When they do, my preference is to find the better setup and trade the pair, but keep an eye on both pairs for continuity of price behavior.
This was a fairly straightforward trade, although it didn't make it all the way to the Asian session high.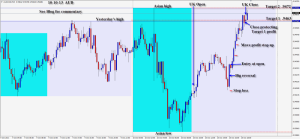 Good luck with your trading!
Off tomorrow…back Tuesday if we find a trade.