An overall theme of USD weakness was evident throughout today's trading. The EUR, GBP and CHF took off without us. With the NZD having a much larger negative Trade Balance than expected, I was curious to see if I could find a reversal trade and ride it to the Asian session high or higher.
The pair eventually set up – consistent with the USD weakness theme that prevailed. An entry long is taken – allowing for a 17 pip stop loss and a potential 81 pips to our Target 2. This is a very attractive reward for the risk. The first level to get through was the Asian session high and alas we couldn't do it. At the close of UK session, we exit for a modest gain.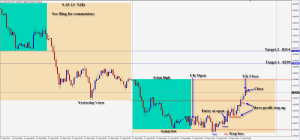 It's frustrating seeing some pairs move right to our targets without being able to find an entry, but discipline is key to trading success. One of my mentors always says, "master your tools, master yourself".
Good luck with your trading!
Back tomorrow if we can find a trade.