An active session as the UK traders returned from a long weekend. Initially the UK traders pushed the CHF down and quickly reversed it with the German IFO Business Climate release, but the Asian session high is not challenged. Price fades but cannot get above the Asian session high again. A triple top forms and the US traders begin by reversing the market down. Although I hesitate to enter trades in the middle of the Asian session range, this set up was too convincing not to, and only required a 15 pip stop. Price moved down and just missed going through our Target 1. As price bounced at this level and ran back up forming a wicky candle – coupled with major US news pending…the trade is closed.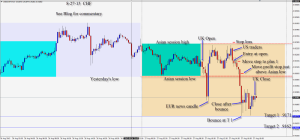 The EUR also had a good trade set up, but I didn't like it as much as the CHF.
Off to a good start this week.
Good luck with your trading!
Back tomorrow if can find a trade.