A familiar pattern set up with the EUR when the UK session got underway. Price came down and broke through the Asian session low, luring in breakout shorts. Price pulled back twice before producing an acceptable entry for us. Our minimum Reward to Risk of 3:1 to our Target 2 was met. Price pulled back one more time testing our decision making for the short trade then dropped precipitously.
Price dropped through our Target 1 and pulled back hard producing a very wicky candle. We close on the opening of the next candle to lock in our profits and avoid giving back any more of our profits.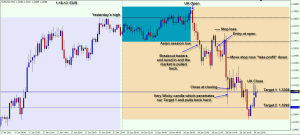 .
All in all a very profitable week.
Back Tuesday.
Questions Michael@privateforexcoaching.com