The USDCAD was active today and a tricky pair to trade.  Despite a great employment release for Canada early this month, the pair moved down to end last week based on NAFTA negotiation concerns.  The question is whether the Bank of Canada will announce a rate hike tomorrow or not?  With some pessimism about the NAFTA outcome, Governor Poloz may think it prudent to hold off for now…despite the strong economy.
With both Brent and WTI trading lower today and a stronger USD, a short was taken.  Risking 14 pips initially for a potential 82 pips to our daily downside target (1.2357 not shown) we had a found the R/R very attractive.  The pair moved down to its Asian lows and bounced.  Having allowed it some room to retest the Asian low, we found our trade closed for a modest gain.  As price set up once again for a short trade, we entered risking 13 pips for a potential 57 pips to our target.  Price moved down but could not close below 1.2400 and after two candles with long lower wicks…indicating buyers entering, we exited the second trade for 4 pips.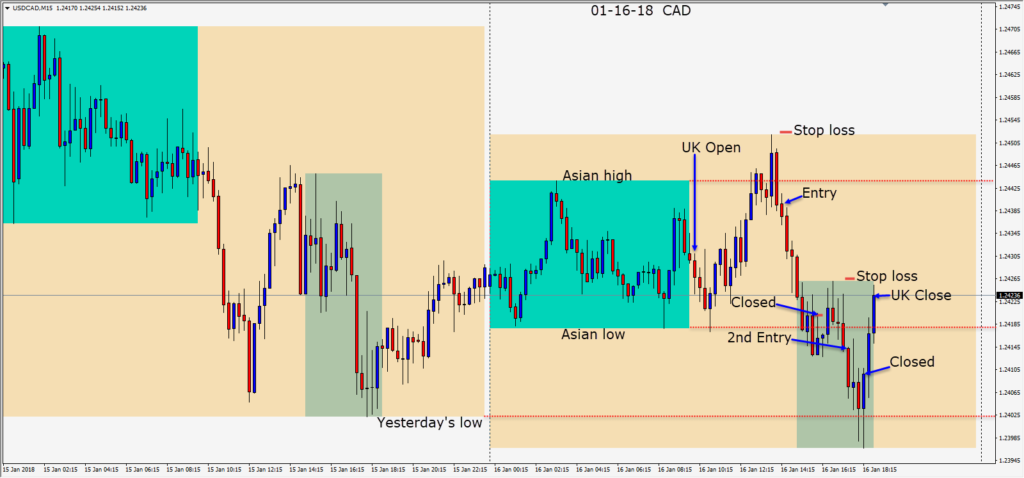 Canada, Australia and China will have major economic news releases tomorrow.
Good luck with your trading.