We will know by November 3rd who President Trump's pick will be for chairperson of the Federal Reserve after Janet Yellen's term ends in February.  In the meantime, there is a lot a speculation among who will emerge as the successor from the top 5 candidates.  The bond, stock and currency markets are likely to react to the pick with a large move.  Today the USD was on its back foot once again.
As the U.S. session got underway today, the USDJPY made a lower high for the day and after a very bearish candle a short was taken – risking 13 pips for a potential 75 pips to our daily target.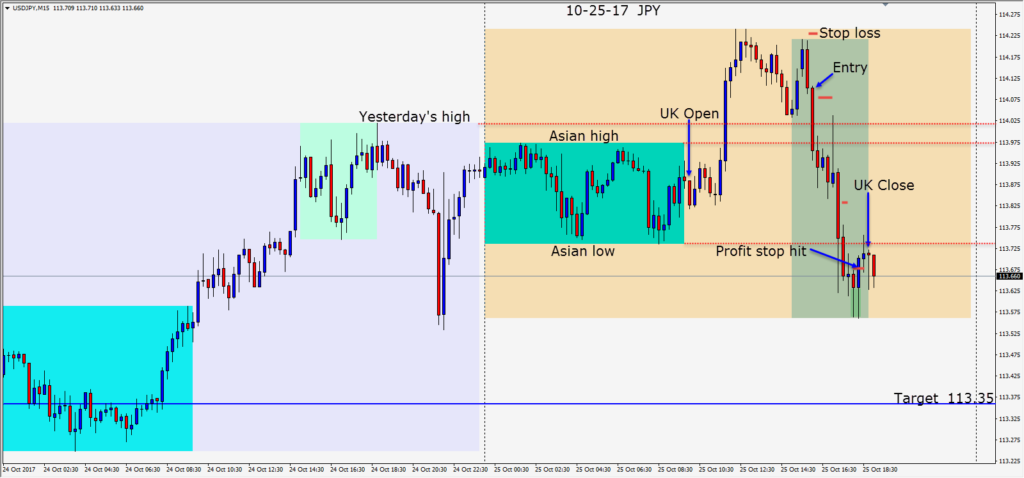 Price moved down to test its Asian high before descending to test its Asian low… retesting each level… as it usually does.  Price then moved lower and long lower wicks appeared indicating that the buyers were entering.   We tightened our profit stop… as this frequently signals a reversal wave.  Our profit stop was hit and we were out of the trade before the London close.
In Canada, Governor Poloz chose to leave interest rates unchanged – which is prudent with the NAFTA talks appearing challenging.  Tomorrow we have U.S. unemployment claims and an ECB Conference which could stir things up.
Apologies for getting behind in my postings, but the markets have been less active lately and most trades have been for limited gains.  The NZD has been active though with a nice move downward last Friday.  The year is far from over…wait for the market reaction to the new FED chair announcement and ECB's Mario Draghi's wording regarding the direction forward.
Good luck with your trading!