As the U.K. session got underway the USDCAD attempted to test its Asian lows but found buyers.  With a 12 pip stop loss for a potential 61 pips to our daily target – we entered the trade attempting first to get above yesterday's lows and secondly above the Asian session high.  Price moved up, retested its Asian high before moving higher.  With lots of pending news in the U.S. session, profit taking caused a reversal and we exited the trade well in advance of our target price of 1.2506.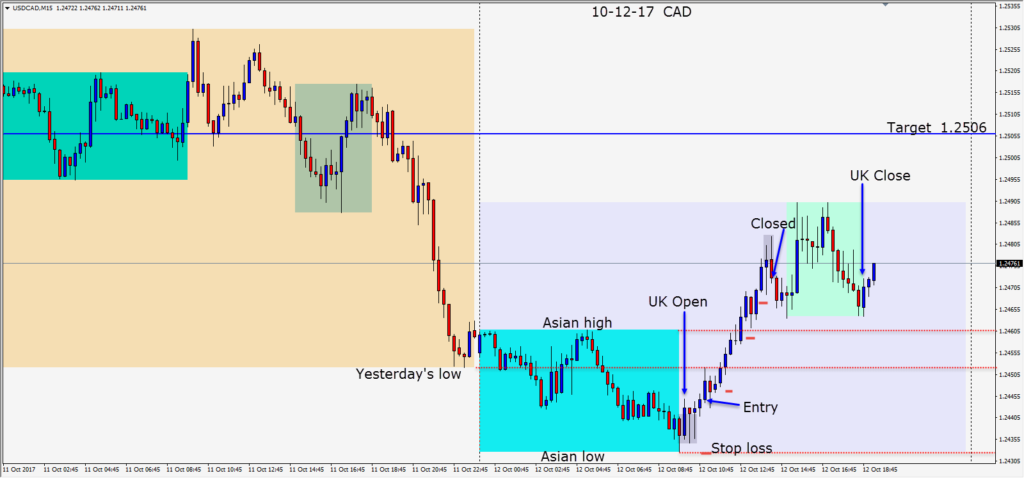 The USD continues to struggle this week despite a near 80% consensus of a December rate hike.  Some of the FED members remain cautious about the effect of interest rate hikes at this time slowing the economy while inflation remains lower than expected.  If this sentiment remains, there becomes less optimism about 3 interest rate hikes in 2018.  President Trump has been thwarted in getting some of his election campaign promises through and hence his planned stimulus for the U.S. economy continues to be delayed.
Trading has been slower than expected for me since returning from holidays.  Most trades lately have been for modest gains and not worth the time required to post them.
Good luck with your trading!