A very active Asian session for the USDJPY as the geopolitical tensions abate between the U.S. and North Korea – for now.  The USD started the week stronger and this has continued into Tuesday.
Our upside target for the pair was 110.36 for today and it briefly exceeded it during the Asian session, which was followed by a lackluster first half of the U.K. session.  Price popped up higher as the U.S. session got underway and at the first sign of a reversal, we chose to go short with the idea of price moving back down to our daily target high of 110.36.
With a 12 pip stop loss above the session highs and a reversal back to our target for 36 pips we had a nice 3:1 R/R.  Price moved down but did not quite reach our target before the U.K. session ended, which is where we closed the trade.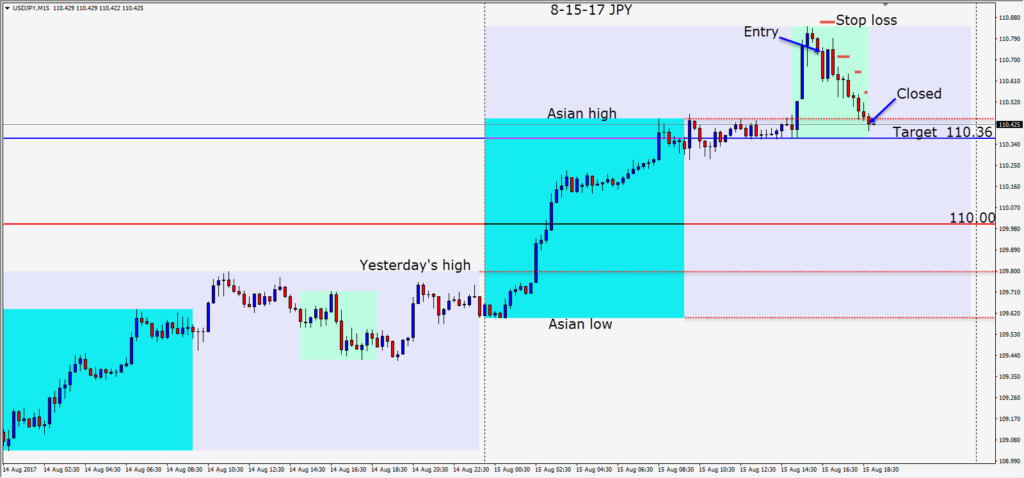 The geopolitical events that influenced the money flows to the JPY and CHF last week have abated for now, but the unpredictable nature of the North Korean leader has not necessarily changed.  If the USDJPY moves higher, 110.62 area needs to be taken out and then a test of 111.25 and potentially the 112.50 area… will be very telling.  To the downside the 110.00 big figure is very significant.  Attention to price action near 109.35,  108.75,  108.15 areas is prudent.
I was called out of town unexpectedly last week and as a result ended up taking the rest of the week off.
Good luck with your trading!