A fairly quiet economic news week with Monday and Tuesday offering very little economic news for traders.  Wednesday will have Janet Yellen's semi-annual testimony and Canada's Governor Poloz possibly announcing a rate hike.
Traders remain bearish on the GBP and bullish on the Euro.  Today we saw an opportunity to go long the EURGBP with a very small stop loss and the trade kept on going well past our daily target.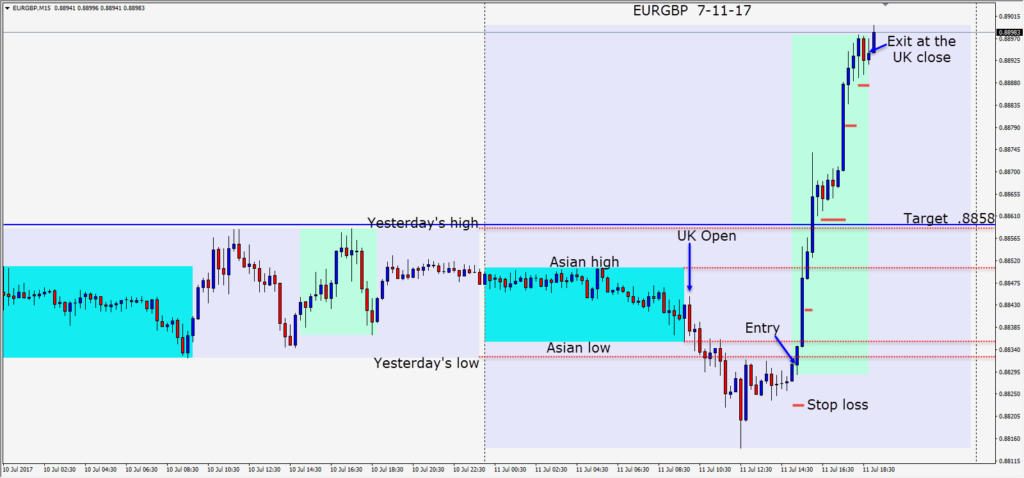 We would have been quite happy for price to get to yesterday's high but it surpassed it and kept moving upward, so we remained in the trade until the London close.
The Euro continues to trend upward and is not anywhere near many analysts price projections for 2017.  The GBP has not benefitted from Brexit and continues to look heavy.
With more of a "risk on" appetite for traders the EURJPY is worth watching but I much prefer to trade the USDJPY.  Choose the pairs you are most comfortable trading and look for the setups that have rewarded you well in the past.  It helps to recognize the important levels to the institutional traders and the current bias or context of the market.
Good luck with your trading!
Apologies for not posting regularly of late but time constraints have limited the amount of time I have to post trades daily.