The major economic news releases today were from the U.S. and they were disappointing.  As the U.K. session got underway the USDCAD moved above its Asian highs before creating a double-top and pulling back.  It found buyers in the middle of its Asian range and moved higher once again where is made a triple-top and began to fade.
With a very small stop loss of 10 pips, we entered short.  In advance of the U.S. session where this pair tends to be most active and in advance of the U.S. economic releases, we moved our stop loss to plus one.  Price moved down nicely driven by the disappointing numbers but bounced right back up to our profit stop the next candle – taking us out of the trade.
Price was then unable to close above yesterday's low and left 2 candles with long upper wicks as more bears pushed price down.  We re-entered short with an initial stop loss above the U.S. session highs.  As price began to drop, once again we moved our profit stop down about halfway up the previous candle as we were approaching the European close and some potential for end-of-week profit taking.  Once again as price retraced upward, our profit stop was hit…taking us out of the trade before a continued sell-off move going into the London close.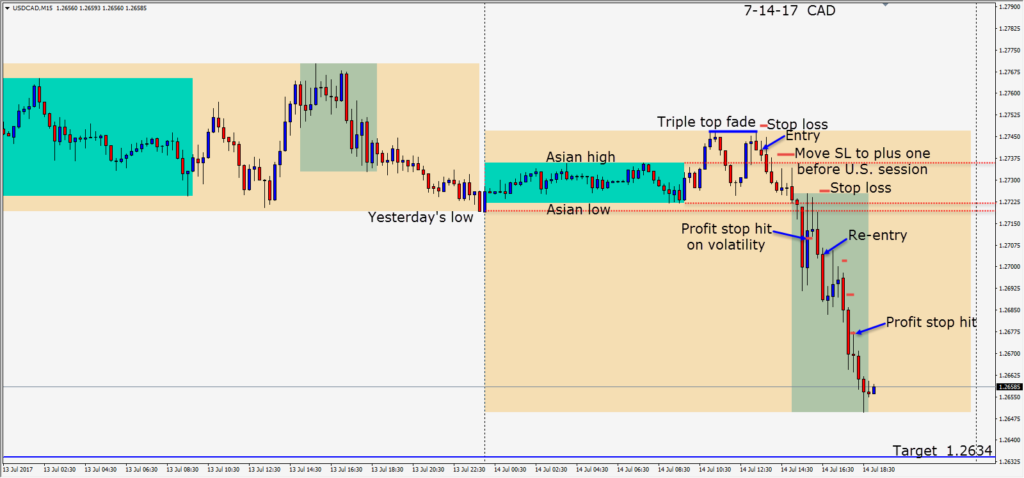 An interesting trading week has ended.  Keep an eye on the CAD as it is clearly trending and the Bank of Canada raised rates this week…with a very optimistic outlook for the economy.
Good luck with your trading and enjoy your weekend!