The USD last week was under pressure due to negative political headlines as opposed to negative economic surprises.  Increasing 10 year German bond yields this year have helped propel the Euro higher versus sideways and declining U.S. 10 year yields which have weighed on the USD.
The EURUSD was quiet in the early half of the U.K. session and then began to rise as the U.S. traders came online.  Price jumped higher and then began to roll over.  As price began to pull back, a short was taken risking 15 pips for a potential 67 pips to our daily target.  With 90 minutes left in the UK/US overlap, we didn't expect to get to our daily target… but price moved quickly down completing its pattern where we exited as it bounced just before the end of our session.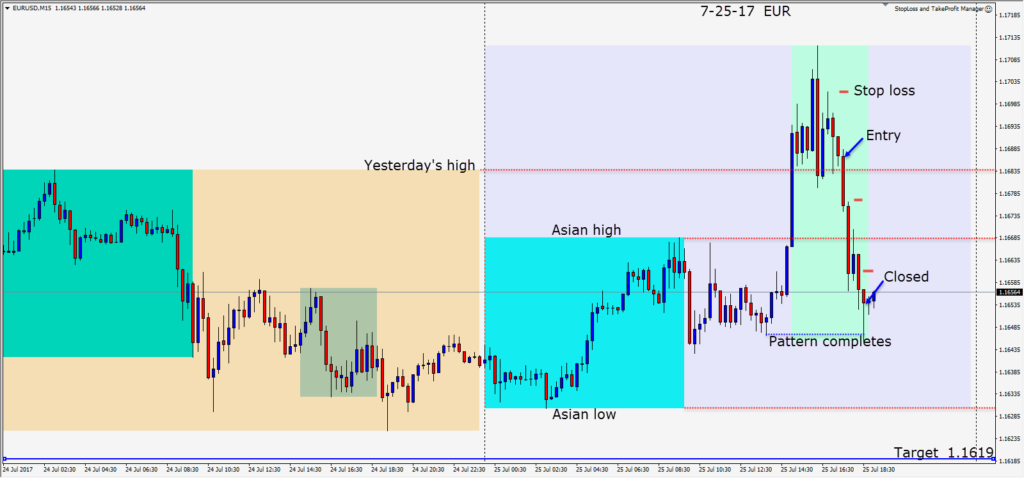 With any countertrend trade it's always a good idea to take smaller position sizing and keep stops tight.
Tomorrow the FED is not expected to announce any new policy measures.  The market has also cooled considerably on when the next rate hike is to be expected.
The Aussie dollar will be closely watched with RBA Governor Lowe's speech on Wednesday.
Good luck with your trading!