Summer trading is here and contrary to popular belief it can be quite rewarding.  Although volume tends to be lower due to holidays – economic releases and geopolitical events continue throughout the summer.
The AUDUSD has been making lower highs since last Friday.  After the first 2 hours of London trading today, a short entry was found.  Price fell in the first hour and a critical level from the 1 hour chart was broken.  After the second hour price appeared to be moving down again and we entered short expecting price to test its Asian low.  Having broken below, we allowed price to retest its Asian low and locked in profit regardless.  As the U.S. session got underway, price moved lower and headed to our Daily Target.  When price bounced up just in advance of our target, our trade was closed on a spike giving us 35 pips.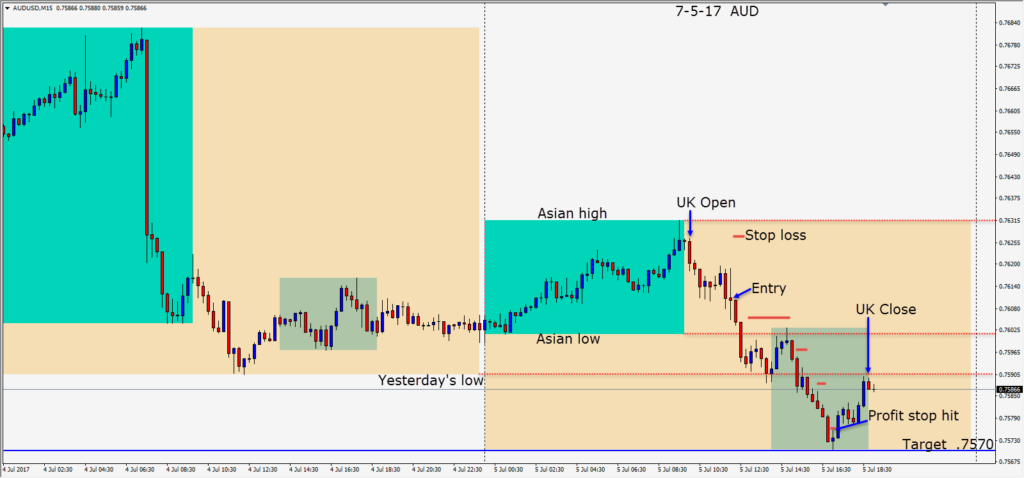 With North Korea having successfully tested an intercontinental ballistic missile (ICBM) there is likely to be much talk about what the U.S. and China will do going forward.   There is definitely lots going on in the world, so don't rule out summer trading unless you're on vacation.
Back tomorrow if we find a nice trade.  I do not post trades typically of 20 or less pips due to time constraints and there is usually not much to learn from them with my style of trading.  Last week after a very nice JPY trade, the trading fizzled for me with 9 and 11 pip trades and I took Monday and Tuesday off this week due to holidays here in North America.
Good luck with your trading!