The Trump reflation trade has been winding down pushing the USD lower and now it's approaching some critical technical levels.  Will it bounce upward?  Also, repatriation flows to Japan continue until the end of the month.
Oil moved up a bit today in advance of the weekly crude inventories due out tomorrow.  After the USDCAD made a second lower high for the day, with two very bearish candles, a short is taken with a stop 15 pips above our entry for a possible 54 pips to our Target.
As the U.S. session began, the USDCAD moved down and we immediately moved our stop loss to plus one pip…removing the risk from the trade.  With the pending U.S. and Canadian news today we were expecting the U.S. news to be positive and the Canadian news to be dovish.  After all, the U.S. is raising rates to slow down their growth and everyone else is hovering, watching their own economy and the Trump effect.
Price moved down to its Asian session lows and retested the level before descending further.  As it continued lower, buyers began to enter and we thought it best to get out in advance of the news.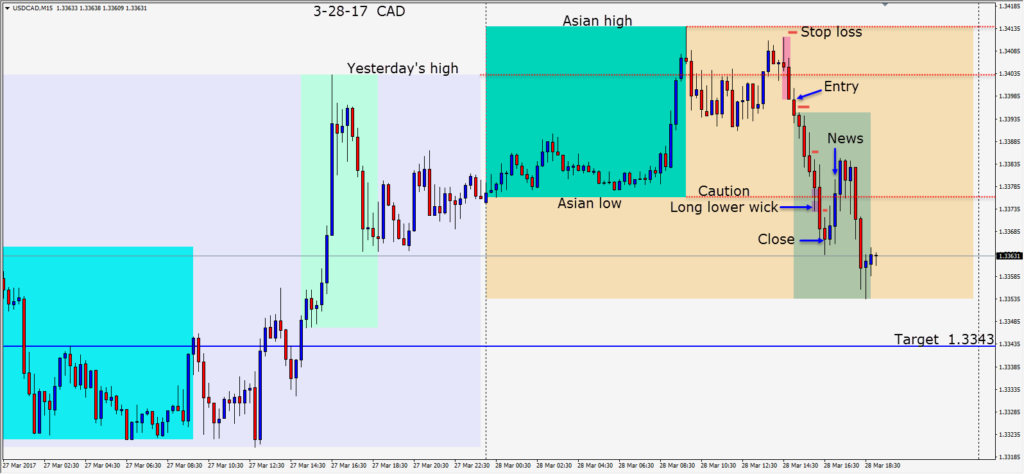 Although the USD continues to get bashed about, it is approaching some critical levels and we will know shortly if it has any strength to take it back up or if most of us have been fooled.
Good luck with your trading!