The EURGBP is a fairly easy pair to trade.  I particularly like it when the EURUSD and the GBPUSD are moving in opposite directions.  This is often due to an economic news release.
With the Article 50 triggered and delivered, it will be interesting to see if the GBP strengthens or weakens going forward.  The activity in the EURGBP certainly picked up today and we caught some of the move but the U.S. Open took us out of the trade at our tight profit stop.  The U.S. session produced another good size move to the downside that we missed out on.
As London opened the pair stalled at its Asian highs and began to reverse.  A short was taken risking 16 pips for a potential 53 pips to our Target. Price moved sideways for the first hour of the trade, then dropped through and retested its Asian session lows before dropping further then consolidating going into the U.S. Open.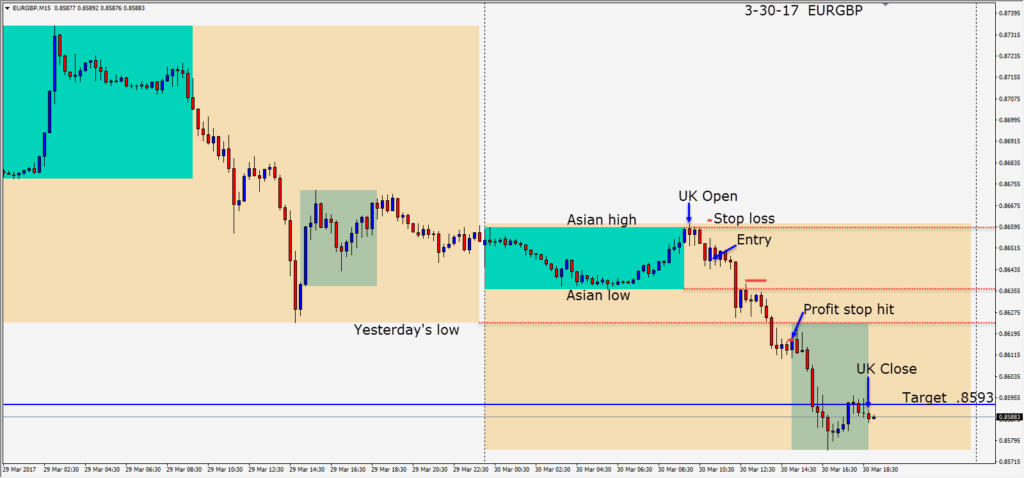 This pair should be very worthwhile watching going forward.  Remember that the cross is sterling and hence worth approximately 25% more per pip than a USD cross.  Trade with stops and position sizing accordingly.
Good luck with your trading!