With renewed USD strength and a "risk on" sentiment evidenced in the equity markets and the U.S. 10 year yield, I had my eye on the USDJPY for a long setup.  Price has moved up this week and now surpassed a very significant level on the Weekly chart.  As the U.K. session got underway, price tested and retested its Asian high…forming a familiar "W" pattern.  When price broke bullishly above, a long was taken with a stop loss 10 pips lower and a Target price of 114.75 today.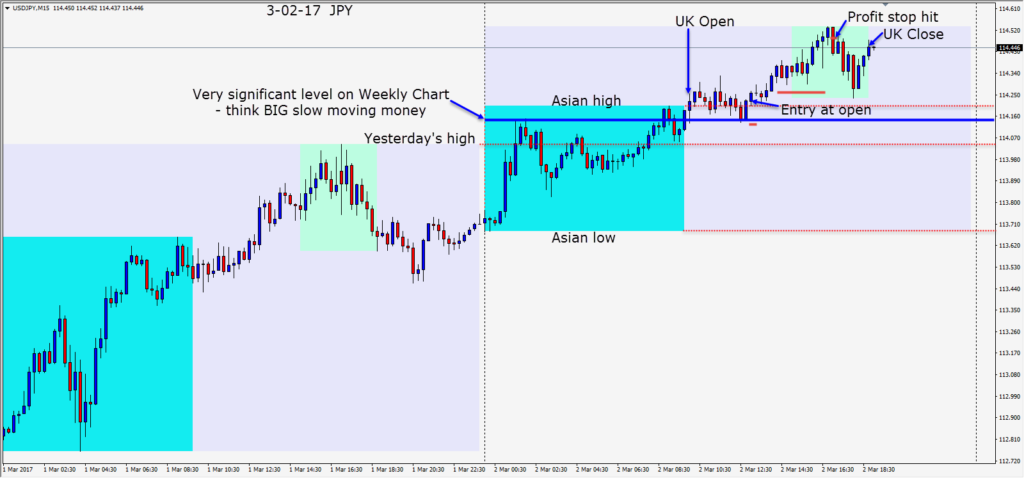 Price appeared to have difficulty climbing higher and we moved out stop loss up to plus 3 pips and waited.  The pair moved sluggishly higher in the U.S. session before reversing to close the trade for moderate gains.  My bias continues to be bullish for the pair as we watch the market price in a U.S. interest rate hike this month.  As long as the U.S. 10 yr yield continues to increase, gold continues to move down, U.S. equities move higher in the short term and Fed members continue to sound hawkish, my preference will be to look for long setups.
Good luck with your trading!