The currency pairs are trending nicely once again since the Fed rate hike on Wednesday this week.  Today wanting to take advantage of the trending AUDUSD, we found a short setup requiring a risk of 19 pips for a potential 62 pips to our Target.
After a bearish engulfing candle, we went short and waited for price to break below its Asian session low and yesterday's low.  In advance of the U.S. session getting underway, we moved our stop loss to plus 1, then continued to lock in profit as price continued downward.  To our surprise, price plunged right through our Target and closed bearishly below it.  Price then attempted to go lower but found buyers setting up the second candle of a three candle reversal.  We exited for bonus pips on a rare day of the market being exceptionally generous.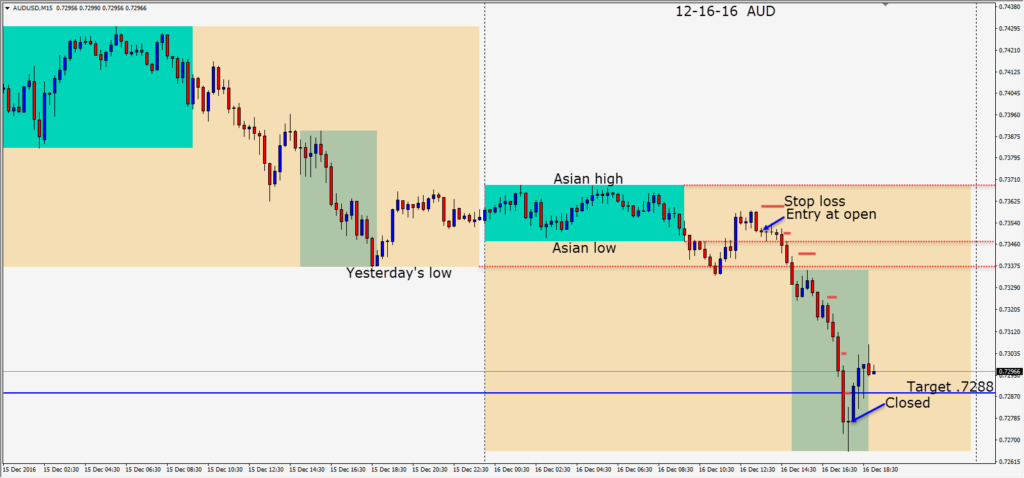 This pair has been an institutional short lately at .7500 – should it get back up there on a retracement, keep your eyes open as to which direction it goes from there.
As market liquidity is declining going into the holidays, be careful of sudden moves caused by large year end orders.  Keep your stops tight and trade with the trend.
Good luck with your trading and enjoy your weekend!