As the U.S. session got underway today the EUR had taken out 1.1000 and was looking quite strong.  The AUD was strong too.  The JPY hadn't moved nearly as much as the other majors and was making lower highs consistent with the overall USD weakness.  A short was taken but I got stopped out for plus 1 pip just before the U.S. news.  It is far better in my experience to tighten stops before news and eliminate the risk of a profitable trade potentially going negative.  You can always get back in.  This market is too volatile these days to risk much profit on a trade.
I know an excellent trader who had a very nice profitable EUR short recently and took off some of his position and left a profit stop about 50 pips lower than his entry.  As the EUR sank and he was up well over 250 pips, he chose to leave his profit stop in place… and he ended up giving back over 200 pips of profit.  He is an excellent professional trader with many years of experience and his style is different from mine.  I don't like giving back profit but he is a position trader and his style is different from mine.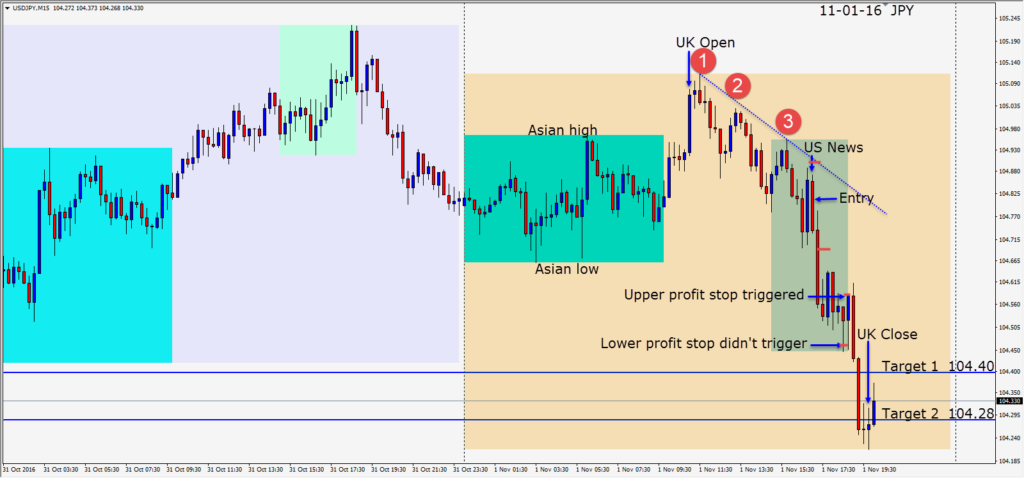 I quickly got back in short after the news with a very cheap stop just above the pre-news high and the fourth lower high.  Price moved down nicely but there was a very important level on the one hour chart that price was going to have to test, which was also close to Friday's low and the options at the 104.50 area.  With the confluence of the 3 factors, one would expect that the level would be quite sticky …difficult to get through and potentially an area for a reversal.  I decided to play it safe and place a profit stop just below the 104.50 area and as I watched price come down to it… I wondered why the trade didn't close.  I also had a profit stop above, so one of the them was going to get hit and it would be a profitable trade one way or another. Unfortunately it was the upper profit stop that triggered and not the lower one!  I was watching price come right down to it and it just didn't trigger for some reason.  This happens and if it hasn't happened to you yet…be aware that it does happen.  It's not worth getting out of sorts over as the outcome will remain the same.  Trading is not an exact science and brokerages don't always fill your order the way you would expect them to, but that's trading.  Any trade that puts money in your account is a good trade.
My chart boxes are off by an hour this week due to the U.K. and European time change which we will follow this coming weekend.  This week has lots of economic news  and of course we have all the U.S. election related news…so be very cautious, selective and keep your stops tight.  It could be quite a roller coaster ride as we approach the election outcome.
Good luck with your trading!