Both the EURUSD and EURJPY have trending easy-to-read charts.  With some JPY strength today and a flat USDX, a  EURJPY  short worked out well.  This pair can be very erratic at times but lately it has been less so.  There is a lot of concerns regarding the Euro with Brexit, European banks and an Italian referendum.  Looking at the charts tells us that the institutions prefer to be short.
A nice setup occurred today in the EURJPY after it convincingly closed below its Asian lows , at the same time as the EURUSD closed with a bearish engulfing candle.  With the USDJPY moving lower this week, EURJPY weakness looked to be a better option than the EURUSD.  With a stop loss just above the Asian low, we had at risk 14 pips for a potential 43 pips to our Target 2.  As price moved down, we locked in increments of profit and before the U.S. Open we had locked in a plus one trade.  We continued locking in profits, moving the profit stop just above the lower highs and the trade was closed at our Target 2.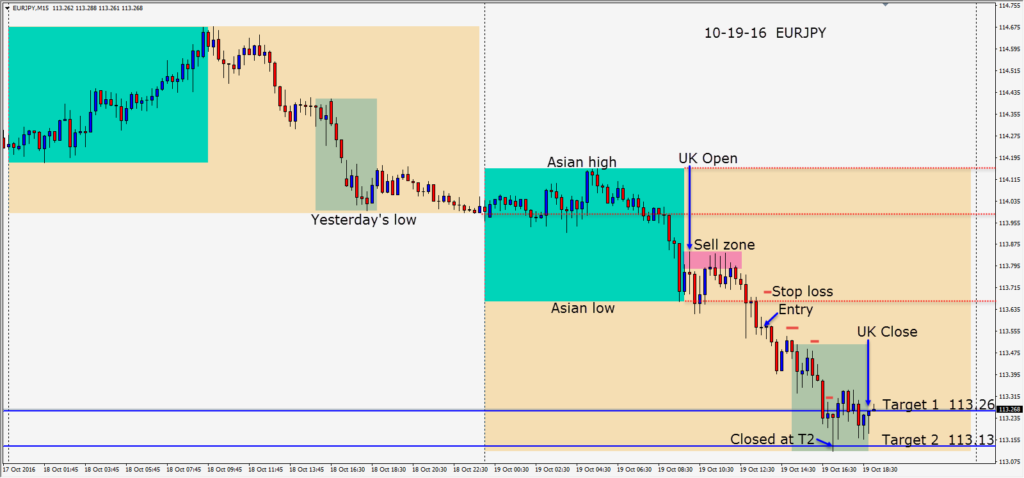 Lots of news tomorrow with the ECB Press Conference being the major event risk.
Following up on the GBP…it appears that although everyone was short a week ago…not everyone is this week.  A break above 1.2350 may bring in further longs.
Tip:
For those that are interested, I'm going to restart a series of "Tips" for traders.  As trading has been slower with my style of late, I have been tempted through boredom to take trades for the sake of trading.  Thank goodness…I know better.  A few weeks back a student of mine brought an interesting concept to my attention.  I wasn't aware of it before and it seemed interesting… so I spent some time practicing it and making sense of it.  When a trade set up that I wouldn't otherwise take, but looked good combined this new concept…I tried it out.  The result was a losing trade and I rethought the strategy.   I have completely abandoned this "new concept" and I am grateful that I lost the money by deviating from my trading plan.
Successful traders have very well defined trading rules.  If you take trades that go against your defined rules…you will not last as a trader.  If at first you deviate and get rewarded for breaking your rules…think about it…you will do it again.  Your trading rules are paramount to your trading success and help to decide which trades to take and just as importantly, which trades not to take.  Following your trading plan consistently is the only way to be a successful trader.  All successful traders are extremely disciplined with their method of trading.
When I learned trading from one of largest traders in the world, he insisted that we fill out a Trade Entry sheet for each trade or he wouldn't discuss a trade with us.  I have refined this sheet over the years for both myself and my students.  If you would like a basic one to reference, please email me and I will gladly send you one in Excel format.
Good luck with your trading!