After the U.S. news today, WTI began to move up.  A short entry is taken on the USDCAD with a 19 pip stop loss for a potential 60 pips to our Target 2.  The first test was the Asian session lows and then… how the pair would react at the 1.2800 figure.  With a bit of patience and a continued up move in WTI the pair moved lower.  We tightened our profit stop after 2 wickie candles and got taken out shy of T1 for an acceptable gain.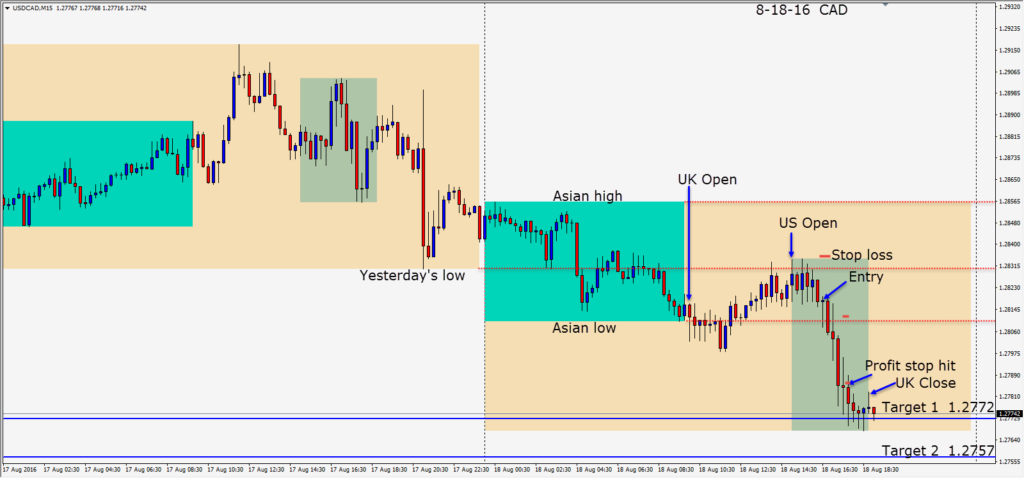 Despite the U.S. economy doing very well, the USD has weakened.  Fundamentals and sentiment can change on a daily basis in these markets, so being able to read the technicals and trade in the direction of the trend…with the BIG money is the easier way to make pips.
I can think of a number of huge fundamental reasons why the EUR should be trading lower… but it's not currently… and its trend has recently changed.
A quick review of the current Daily trend of the major pairs:
EURUSD Up
GBPUSD Down
USDJPY Down
USDCAD Down
AUDUSD UP
NZDUSD Down
WTI UP
A prudent trader will look at other time frames for confluence of trend and search for the best setups in those pairs.  When risk is assessed versus reward, which pairs stand out?  These are a couple of the numbers in the trader's combination lock and a good place to start.
It's August and trading is slower and less liquid due to summer holidays. I'm posting fewer trades as a result and getting fewer pips too.
Good luck with your trading!  Keep it simple and stay focused.