With the U.S. 10 year yield continuing to drop yesterday, the idea was to look for a short setup in the USDJPY and ride it down to as close to the 100.00 figure as it would be willing to go.   Rumours of intervention abound but will the level hold psychologically or with concerted government assistance?
Early in the UK session, the pair started to drop (with trend) and a short is taken.  Price descended to its Asian session low, through it and retested it. Price then moved through our Target 2 and retested this level for an hour.  With very tight profit stops all the way down, we awaited to see what would happen if the pair reached the 100.00 figure.  This is not going to be an easy level to get through and even if price breaks through it…it may snap upward quickly eroding profits.  Keeping very tight profit stops near 100.20 may prove to be prudent…but keep an eye on the 10 year yield.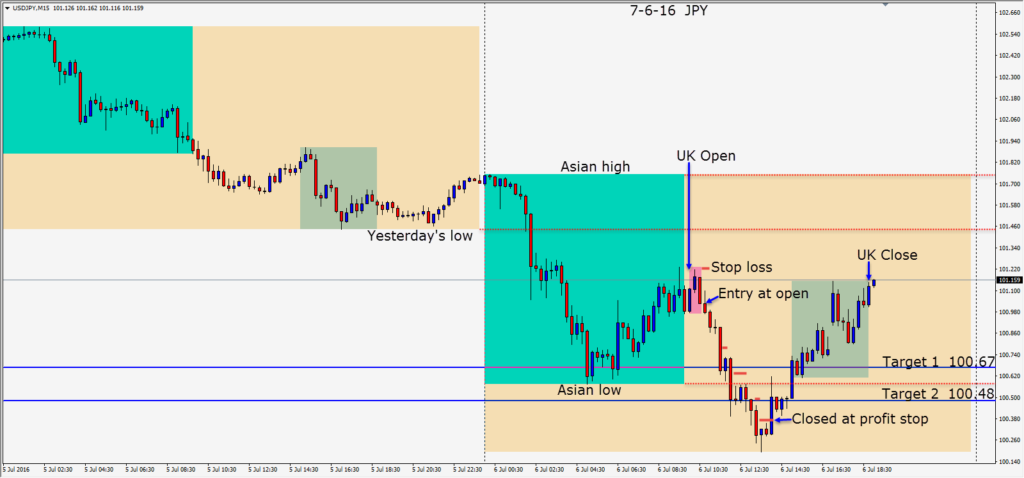 The GBP keeps falling but the entry stops are quite pricey.  If you mistime your entry and your stop loss is hit a couple of times during the week…it will prove costly.  My preference it to find entries in other major pairs until I can get a stop loss of less than 25-30 pips in the GBP.  The early U.S. part of the session today was very rewarding for GBP shorts.
Good luck with your trading!   My preference is to let the larger charts show the direction and fine tune entries on the 15 minute.  Keep your stops tight and exercise good money management as always.