Choose the chart setups that make you feel comfortable.  The majors are aligning very nicely with a few nuances always to be aware of.
The U.S. traders were back today and there were some very nice moves to capture for traders.  Each time BOE Governor Carney speaks, it would appear the GBP goes down further.  It's not like he can now say post Brexit that everything will now be okay afterall.  Traders are expecting Bank of England easing going forward.
Today shorting the EUR with a 15 pip stop loss for a potential 65 pips to our Target 2 looked very attractive.  The EUR remains very vulnerable to the USD.  A short is taken early in the U.S. part of the session as price came back in to close beneath its Asian high.  The EUR was looking very heavy today above 1.1150.  Price dropped through its Asian low quickly before pausing and retesting yesterday's low and a very significant level on the Daily chart…classic price movement!  Price then descended to and just beneath our Target 2 where we closed the position at the UK close.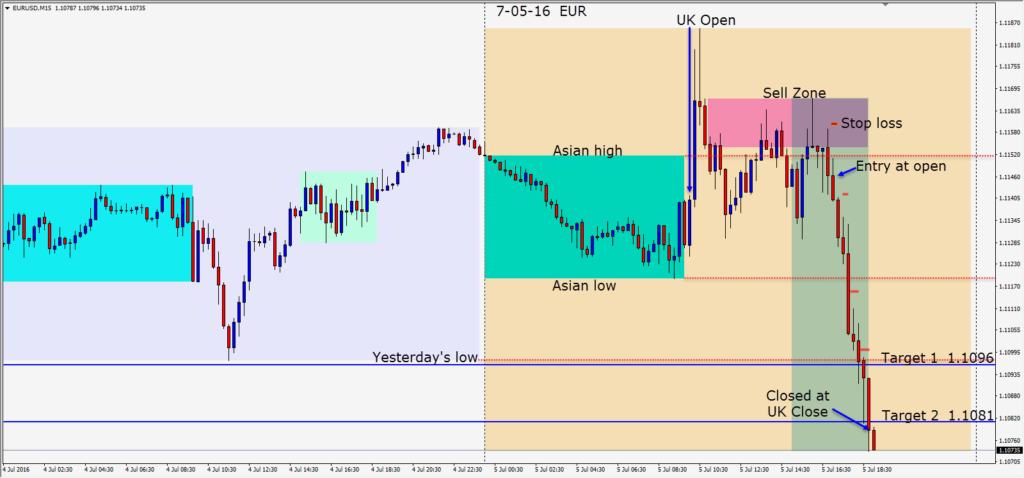 Note**** US 10 year yields traded below 1.40 for the first time since 2012 while trading at 1.8% through most of May.  With U.S. inflation near targeted areas, this does not bode well for the bond market.  With the U.S. 10 year dropping precipitously, we see the USDJPY moving in the direction of the 100.00 figure and possibly Brexit day lows.  Will the Japanese intervene?  Will the Japanese alone be able to stop the decline?  It's all quite fascinating.  There is money to made this summer!
Good luck and enjoy your trading!