After the Doha impasse on Sunday, WTI oil futures gapped down by over $2.00.  By Monday, it was back to onward and upward.  Today WTI moved upward once again in the U.S. session.  Broad USD weakness today was apparent as the market appears to have lost its faith in a rate hike…at least for the foreseeable future.  The GBP was even rising to the USD.
Taking advantage of USD weakness and WTI strength led us to a USDCAD short risking 26 pips for 64 pips to our Target 2…which is an acceptable R/R for this time of day.  With Gov. Poloz speech pending, we wanted to get the risk out of the trade as soon as possible and went to a plus one pip profit stop after the first candle.  WTI continued upward and we continued to tighten our profit stop as the pair moved down…closing at Target 2.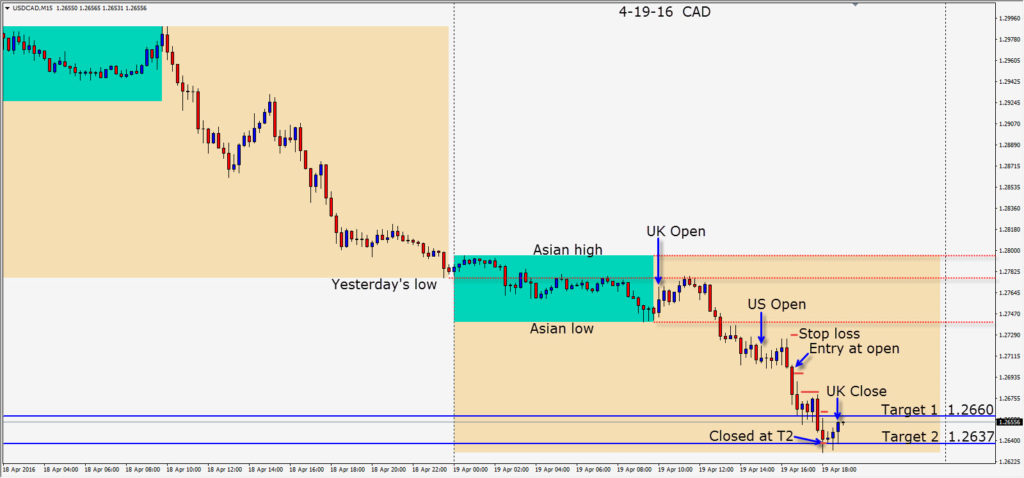 The EUR set up nicely today but the trade was frustratingly modest in return as the profit stop was hit at 13 pips after price bounced downward after testing an important level.
Lots of news pending for tomorrow's session.
Good luck with your trading!