After a third higher low today, the GBP set up for a long trade.  On Fridays in my opinion, a trader needs to keep their stops particularly tight and get in and get out without trying to ride a move too far.  A lot of money comes off the table on Fridays and abrupt reversals can and do occur.
This setup allowed for a 16 pip stop loss for a potential 101 pips to our Target 2.  Price moved upward and zoomed through the Asian high.  We moved the stop loss (now profit stop) up removing any risk in the trade.  We also want to allow price room to retest the Asian high which it did't do today. Today is more of an exception because price zoomed right through and didn't look back.  It is with high probability that if it zooms through an important level – it will retest it before moving higher/lower.  Price then jumped up very bullishly for a second consecutive candle in a vertical manner.  Vertical moves are not sustainable!  We tightened our profit stop again – about halfway down the previous bullish candle.  Sure enough price pulls back and takes us out.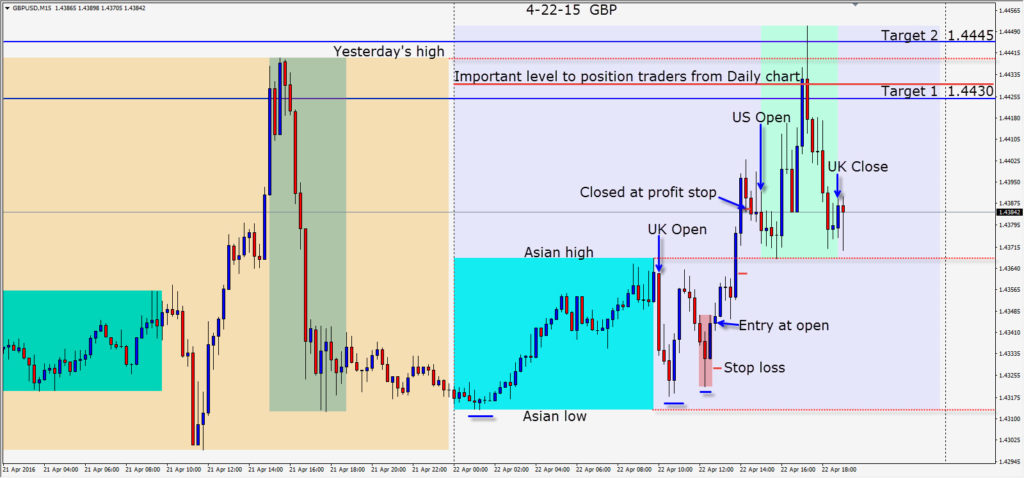 A quiet day economic news release-wise with the exception of the Canadian Core Retail Sales and Core CPI.  These were positive numbers for Canada and the CAD strengthened quickly moving before WTI moved… negating any trades resulting from it.
Overall a great week with lots of action in the markets.
Enjoy your weekend and good luck with your trading!