On Thursday the "risk on" theme in global markets continued.  Although my preference would be to short the GBP, if the market wants to buy it, then waiting for a high probability setup that allows for a small stop loss opportunity and a good R/R is going to be what I look for.  This setup offered a 25 pip stop loss for a potential 101 pips to our Target 2.
The setup also included a textbook "W" pattern with 3 lower lows on pullbacks coupled with a 3 candle reversal.  An entry could have been taken after the second higher low, but the stop loss was too rich for me…being that this was a countertrend trade.  Price began to move up nicely taking out the Asian high and moving above and closing above our T1.  We protected that level and after price went through our T2 level, we closed as the trade moved back to retest it.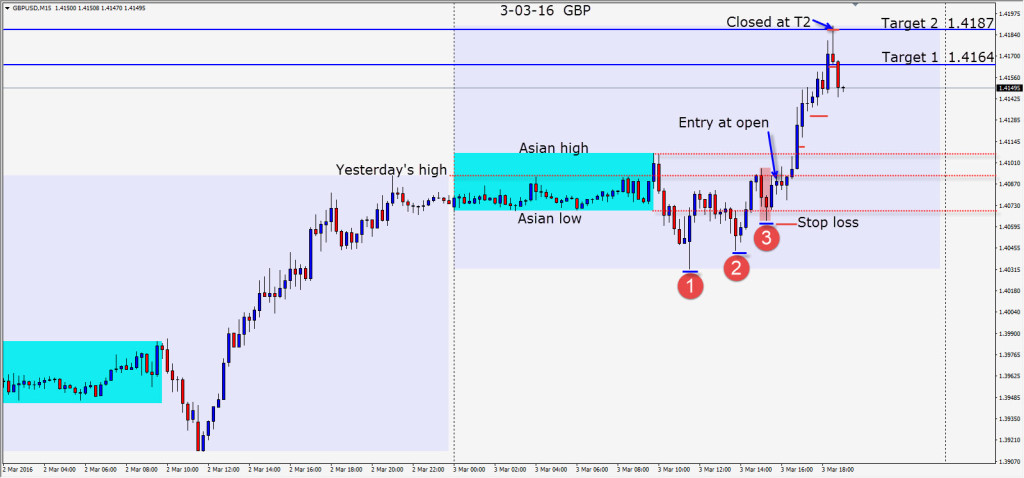 This an a very good pattern to become familiar with and has high probability of success.  Knowing just a couple of patterns and being disciplined in waiting and trading them can lead to some very successful trading.  Practice is always the key, and this is best done in a demo account while you are learning and developing a track record of successful trades.  Learn how to read what the market is telling you, then learn how to trade it…but do not fall prey to gadgety indicators that will give you inconsistent results and erode your confidence.
Sentiment can change quickly in the markets, but understanding the context of the markets on any given day will enable you to be objective and look for clues as to how the flows are moving, and let you determine if entries make sense consistent with your trading plan.
Lots of economic news next week including releases from China the ECB press conference on Thursday.  I will be looking for EUR weakness.  Oil remains strong this week and hence part of the "risk on theme" globally that we have experienced this week.  This too can change which is why intraday trading appeals most to me.  I don't like giving back gains as the sentiment swings back and forth from one day to the next.  In a beautiful trending market it makes more sense to position trade – to my way of thinking.
Enjoy your weekend and good luck with your trading.
Back Tuesday if we find a trade.
If you have any questions, please don't hesitate to email me.