Concerns over Iran not agreeing to production freezes caused oil to weaken today.  This is turn caused the USDCAD to strengthen and with the USDJPY heading down – opportunity was found in the CADJPY cross.  This trade set up in the U.S. part of the session… while most traders were still focused on the Euro moves today.
With a 35 pip stop loss (JPY not USD) for a potential 106 pips to our Target 2, we entered short and watched to see how price would react at the Asian session low, as we entered short at yesterday's high.  Price slices through it as the European markets close.  It then moved further down with only UK and the US traders active – closing at our Target 1.  We give it a little wiggle room and close at Target 2 – riding it down with WTI weakness and get out at our Target 2.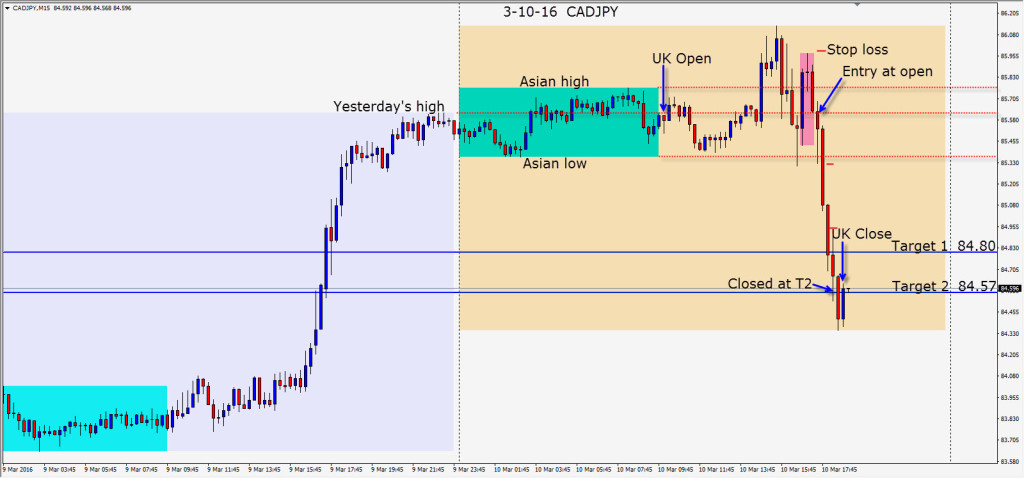 New Zealand lowered its rate yesterday… a move that had been expected for some time and discussed here earlier.
Mario Draghi topped expectations and the market went vertical with a near 400 pip move to the upside today.  Remember vertical moves are not sustainable… so I will be looking for a retracement setup with acceptable R/R… whether that is tomorrow or next week.
A quiet economic calendar for the U.S. tomorrow, but the CAD has some pending news and oil remains active and on everyone's radar.
Good luck with your trading!
Back tomorrow if we find a trade.