I'm a day late in posting and it's been tricky finding a trade this week.  I don't usually post trades that result in less than 25 pips, but I certainly haven't found any great trades this week.  This small one yesterday looked good, but the profit stop was hit and we were done at 20 pips.
The trade started with a 25 pip stop loss that I would not have let run up to that level.  The stop loss is always placed in case the market spikes against a trader due to some unforeseen event to prevent catastrophic loss.
Being bearish the GBP… a chance to short it is hard to resist most days and this trade had the potential to move 126 pips to our Target 2.  Alas the market had other ideas…but it did look good…right up until our profit stop was hit.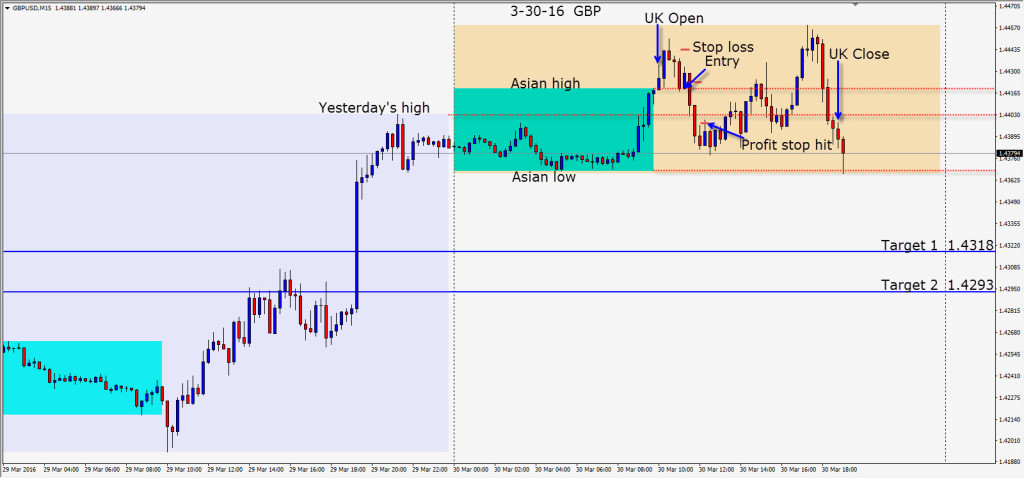 Today I found nothing that met my criteria for trading.  With it being a shortened week with the Easter holiday in many areas and the market waiting on Janet Yellen's speech on Tuesday and NFP on Friday – it has been difficult to find setups for me.  The market tends to be tricky at month end and especially at end of quarter and year end.  I will step aside until next week and hope for a good NFP number tomorrow.
The first quarter of 2016 has ended and where are we now?  The USD was very strong last year and expectations grew by year end that interest rates would rise further in 2016… and they likely still will rise…but not as soon as many traders had anticipated considering how well the U.S. economy is doing.  A continuing dovish sounding Janet Yellen has helped the USD lose some of last year's luster…for now.
Commodities including oil appear to have bounced off their lows and this is very positive for commodity sensitive currencies and especially oil sensitive currencies.  Europe remains unstable financially and Mario Draghi is throwing in everything he can to stabilize it and to my surprise the Euro has been holding up very well.  Will Britain choose to leave the EEC?  The UK is not doing as well economically this year and the "Brexit" uncertainty is very negative for the GBP.  China remains very interesting as they attempt to stimulate targeted growth.  Japan has a lot to overcome economically but the JPY remains strong as a reserve currency.
Currency trading is always interesting and ever changing… a fascinating occupation!
We will see what Q2 brings us in the way of trading opportunities.
Good luck with your trading!
Back next week.