Oil is staying above the all important $30 a barrel level for the fourth day in a row.  Saudi Oil Minister Al-Naimi comments coupled with comments from Iran and Iraq led the market to sell oil today… but so far it remains above $31.
A nice short entry was found in the CADJPY requiring a 25 pip stop loss for a potential 62 pips to our Target 2.  As this set up in the U.S. overlap portion of the session a 2:1 or greater R/R is fine.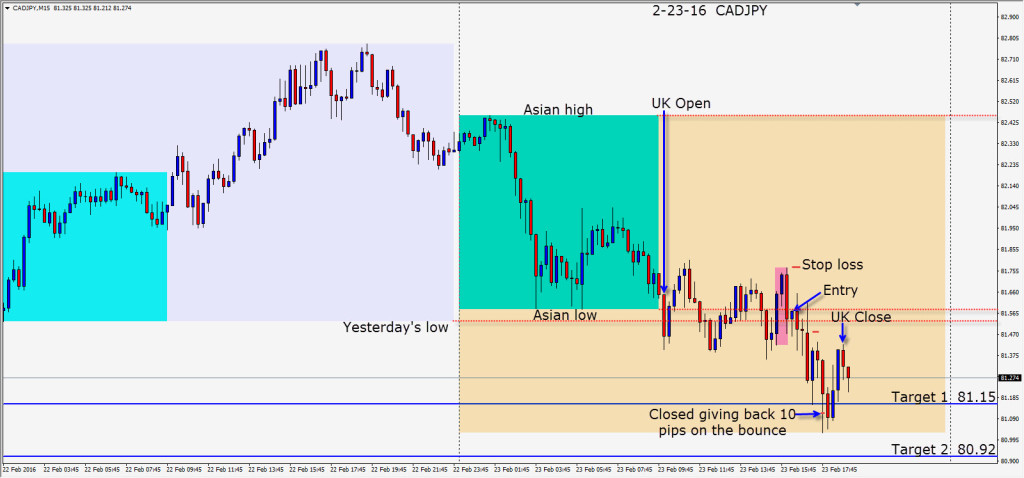 The trade moved fairly quickly and after giving up 10 pips on the second attempt to get through our Target 1 – the trade is closed just before the European close.
Keep an eye on the oil inventories tomorrow during the U.S. part of the session.
Lots of uncertainty regarding the topical Brexit vote.  If Britain leaves the E.U. it will have a two-fold effect.  The uncertainty is very interesting and causing lots of speculation day-by-day.  Listen for the rumours and look for the setups in both pairs.
Good luck with your trading!  Lots of speculation out there with markets moving both ways at the moment.
Back tomorrow if we find a trade.