These are interesting times.  Both the EUR and JPY have strengthened to the USD.  I have a hard time believing that this will last, but in the meantime the markets are telling us otherwise.  WTI  gave up the $30 level today and came close to testing its recent low before buyers stepped in.  Beware if the $27.50 area gives way.  Saudi Arabia apparently has increased its production which makes pricing interesting.
If you can find good trade setups offering appropriate reward to risk ratios, and keep your stops tight, there are profitable trades.
Today, I liked the AUD as it bounced off our downside T2 and reversed early in the US session.  The risk was 20 pips for a potential 100 pips to our upside T2. As the USD weakened across the board, the AUD moved up taking out its Asian low and continued toward yesterday's low where it left a very wicky candle.  Not prepared to give back many pips, we tightened our profit stop and the market closed us out.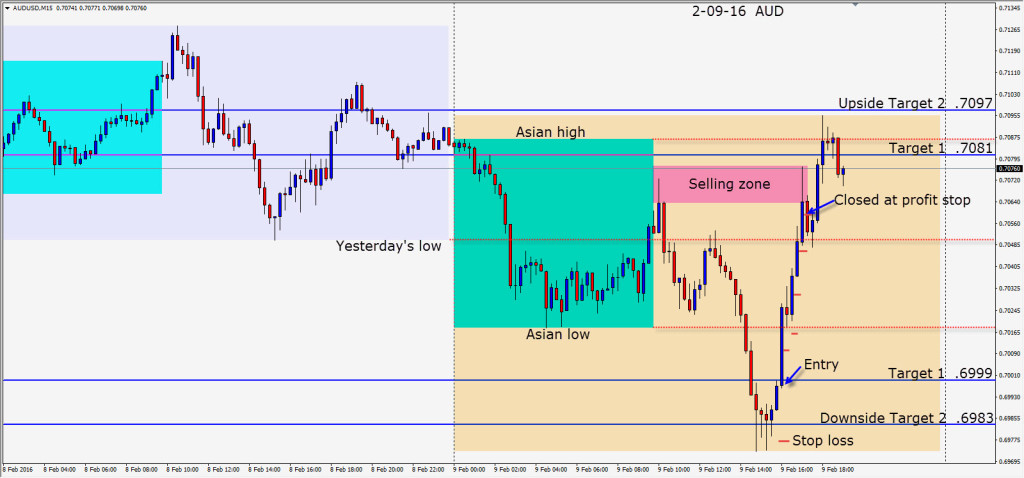 Tomorrow we begin with UK manufacturing production, followed by Janet Yellen testifying and then crude oil inventories.
Be extra careful!
Back tomorrow if we find a trade.