The JPY traded sideways in the middle of its Asian range until just before the US session.  As it broke convincingly, a long is taken with an 11 pips stop loss for a potential 45 pips to our Target 2 – the 1.2400 figure.
As price moved up, we locked in our profits and watched to see how price would react at the levels shown on the chart.  As price went through our Target 1 and began to reverse, we exit as it touches Target 1.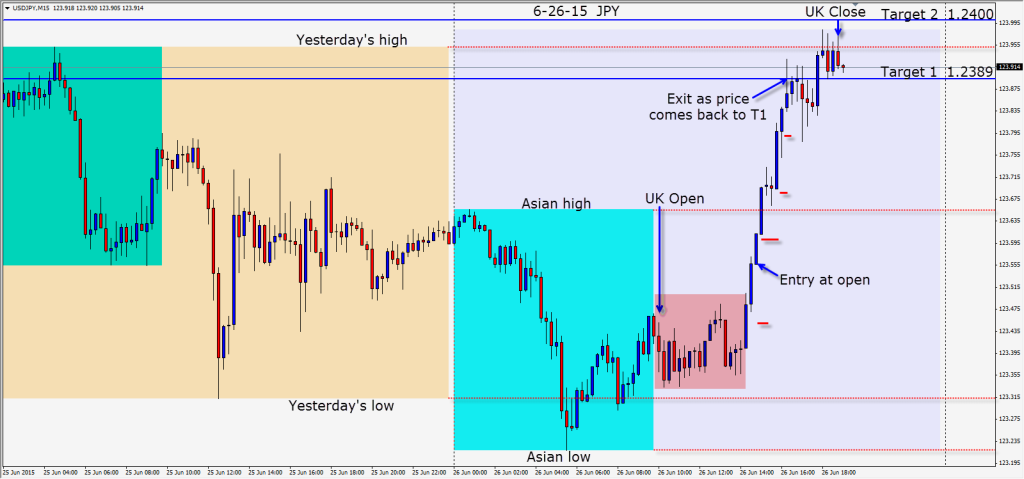 The JPY has been moving quite predictably of late.  A clear break of 1.2450 area will likely attract more buying.
The ECB/Greece outcome has the potential for producing some gaps when trading resumes for the new week.  Many position traders will not be prepared to take that risk and will close their positions in advance.
It is not our habit to trade Mondays, but this may be an interesting one.   When markets are this nervous and uncertain… either step aside or keep your stops losses extra tight and lock in your profits quickly.  Trade the setups with small stop losses and especially avoid the wild pairs.
Enjoy your weekend!
Good luck with your trading and we will see what next week brings us.