Greece jitters remain and the EUR is showing surprising resilence.  The current 1 month implied volatility for the EUR is at the highest level since December 2011.
After the German ZEW release, the GBP started to move up and the EURGBP started to move down.
In general, I do not like to enter a trade in the middle of the Asian range.  If I have a confluence of reasons to – I am prepared to go for it.  Today, we had 3 lower highs, a reversal pattern, a poor German ZEW release, a better than 3:1 R/R, the GBP moving up, and Greek jitters simmering in the background.  A very affordable 15 pip stop loss made this trade very acceptable for its potential 50 pips to our Target 2.
After an entry short is taken price moved down…tested and retested the usual levels… which also included the .7200 figure.  Price continued down to our Target 2 as we protected our profits along the way.  As Target 2 is hit…we exit.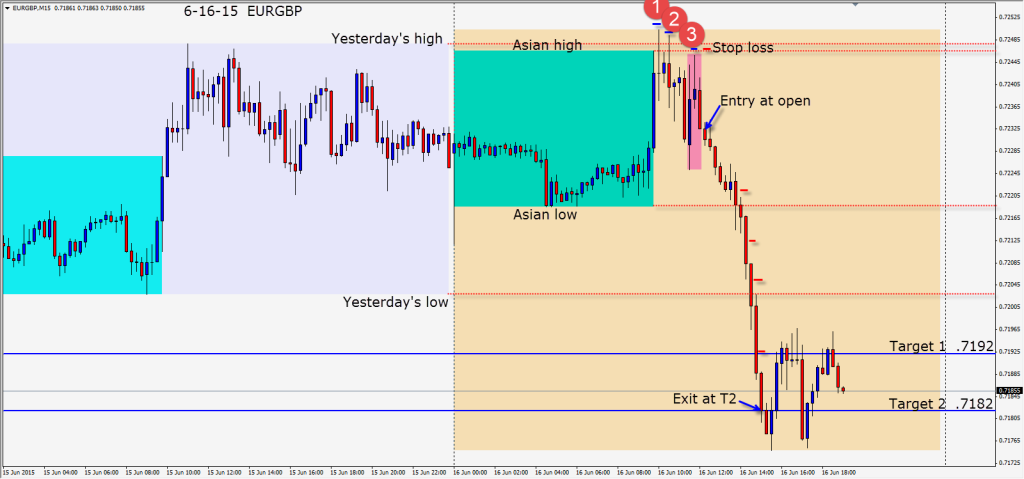 Tomorrow has lots of economic news as well as the FOMC during the US session.
Good luck with your trading!
Back tomorrow if we find a trade.