The big question regarding the GBP this week is which party will win the General Election on Thursday?  Current polls are showing it could go either way.
The Euro is moving up despite Greece which one would think would be weighing heavily upon it.  The US is showing a series of softer numbers but the major focus this week will be the NFP number on Friday.  A very strong number would signal the strong USD trend is back on.  A weak number coupled with the current soft economic numbers would signal otherwise.
With the current but highly questionable EUR strength and uncertainty about the UK Election outcome… a EURGBP long is taken with a 13 pip stop loss for a potential 56 pips to our Target 2.  Most of the  pairs are requiring a much larger stop loss than we are comfortable with at the moment – in this period where the majors are moving erratically about.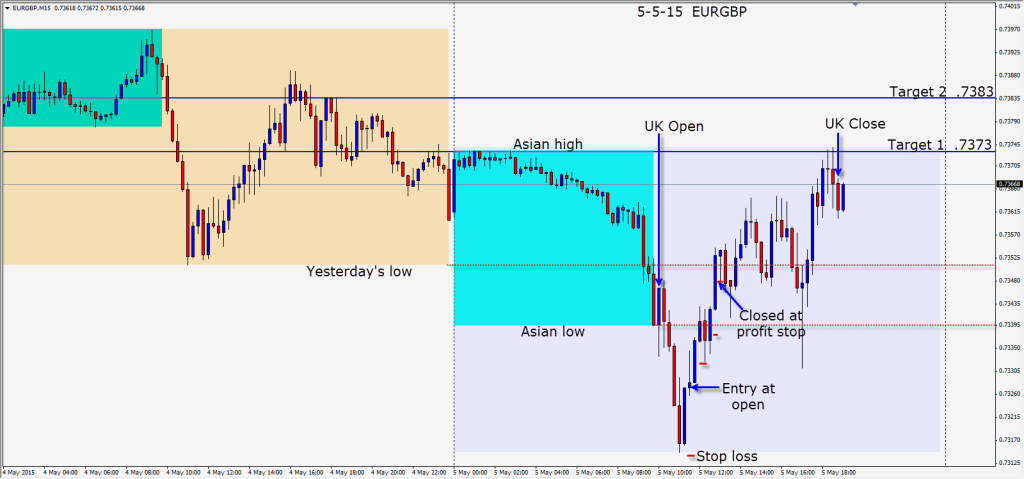 The EURGBP pair tends to be much less erratic and a slow mover.  After a large bullish engulfing candle a long is taken despite the UK news.  As mentioned above, the election outcome is really the focus this week for the GBP.   Our first objective is to close above the Asian session low and then get above yesterday's low before moving up to the Asian session high… which is also Target 1.  As price moves up and closes above yesterday's low, we allow for a few pips of wiggle room to retest it, but we are closed out at our profit stop for a modest gain.
Until we get through Friday, the markets are going to very tricky to trade in terms of conviction.
Back tomorrow if we find a trade.