Since Tuesday's disappointing retail sales number the USD has been squeezed.  The continuing soft U.S. data as the week progresses is adding to the broad correction.
Beware of technical resistance areas as this counter-trend wave can end abruptly.
After the UK open the EUR pushed down and formed a base before breaking to the upside.  With a 25 pip stop loss, a long trade is taken for a potential 115 pips to our Target 2.  As this is a counter-trend trade, we want to remove the risk from the trade promptly and keep tightening our profit stops until the market takes us out.  Price begins to move vertically up and vertical moves are not sustainable.  We tighten our profit stop to approximately halfway down the preceding large candle.  As it turns out, this was a little too tight and we are taken out well before our Targets 1 & 2.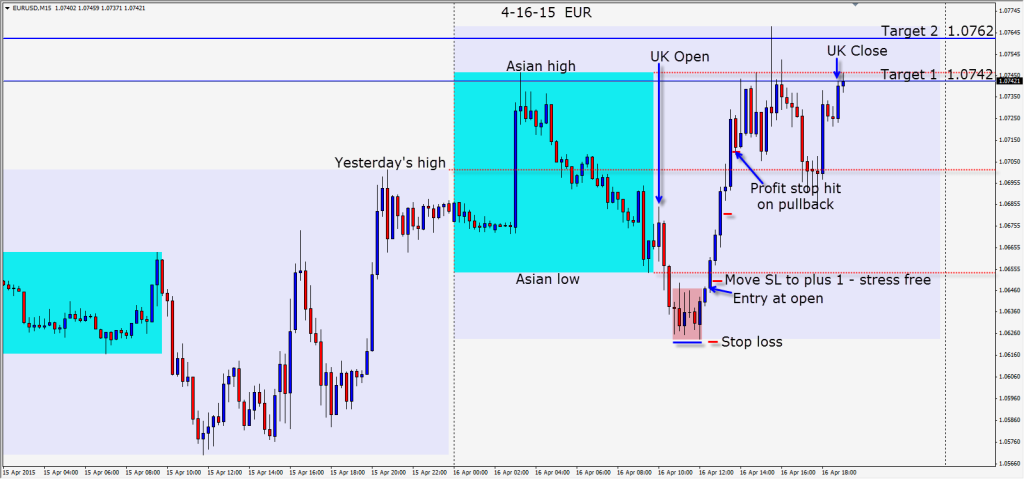 With any counter-trend trade it is better to be safe than sorry.
The 1.0750 and 1.0800 levels may attract institutional short positions being added as they fade the rallies in the upper portion of the current range.
Good luck with your trading!
Back tomorrow if we find a trade.