I suspect it was institutional transactional traders buying in the early UK session that brought the EUR back up to the Asian high – where the sellers began to enter.  After 3 lower highs, we enter short with a stop of 13 pips for a potential 119 pips.  When you find a R/R of 9:1 in a pair that is so clearly trending…it's hard to resist.  A bit of patience earlier in the week has paid off the past couple of sessions.
Price began to descend and paused at the Asian session lows.  With news pending, we move our stop loss to plus 1 pip.  The pair descends further and tags our Target 1 at 1.0505.  We exit thinking that getting through the 1.0500 figure, yesterday's low and making it to Target 2 may be ambitious for a Friday.  Price retraces then plunges to our Target 2 without us.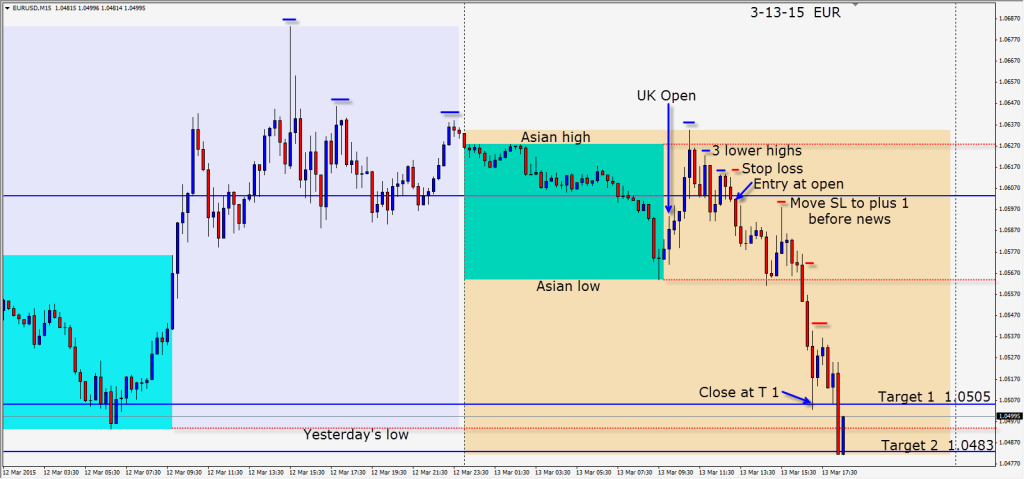 This pair is heading for parity and below in my opinion.  Be cautious around the figures but we are taking out swing lows from over 11 years ago and continuing downward.  Do not be fooled by brief retracements.  The trend is USD strength and it's easier to trade with the trend!  Next week we have FOMC on Wednesday to look forward to.
Good luck with your trading and enjoy your weekend.
Back Tuesday if we find a trade.