Fairly easy session to find trades after the US news today.  The JPY had a similar setup to yesterday for a few pips with the bounce above the low from the FOMC day.
The AUD and NZD have been reaching lofty highs of late with the .7900 level  looking like a good area to find sell setups and the .7700 level being the same for the Kiwi.  A bit of disappointing news domestically or continued USD bullishness being the potential catalyst.
A familiar reversal setup after the US news today right in our sell zone.  With an 18 pips stop loss, we are trying to get to the FOMC day high and break below.  This is a key technical level and price will tell us if it will hold.  If not, price may cascade lower potentially to test the low of the FOMC day near term but not today.
As price came down and it paused at the  .7846 level.  It bounced above and we allowed it to retest but as it found buyers after 3 candles we exited. Price did subsequently break lower and if it closes today below the .7846 level – this will be of technical significance.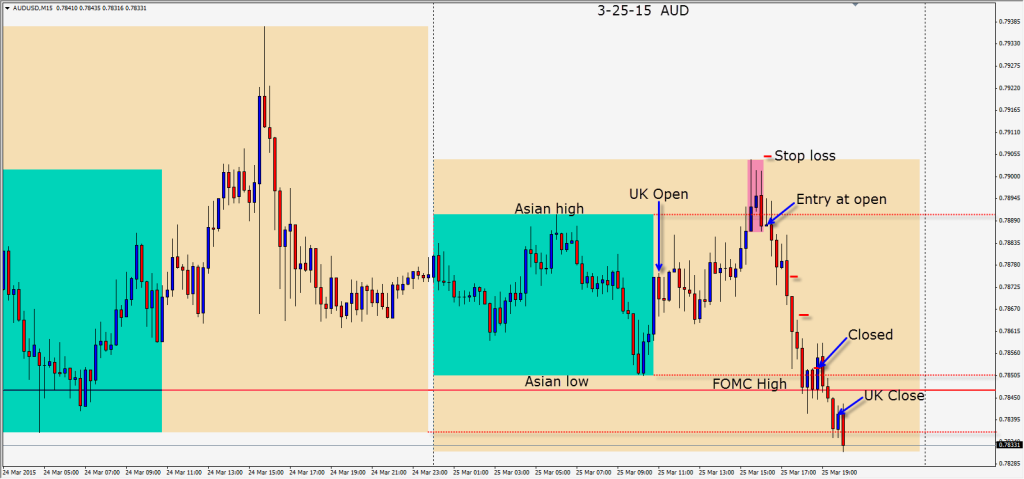 Unemployment claims tomorrow and GDP on Friday will be important releases.
Good luck with your trading!
Back tomorrow if we find a trade.