Following the FOMC excitement there appears to be some two-way action with the US dollar.  In my opinion, the trend remains USD strength until the charts and bond markets tell me otherwise.
Yesterday it was difficult to sit on my hands because after the BIG counter-trend moves on Wednesday, institutions were using the pullback to add to their core positions which had been pared back considerably and in some cases closed.  Thursday's stop losses were too expensive for me to participate.
Ending the turbulent week we saw a reversal move right across the majors today.  The USDJPY has been fairly subdued of late.  With that in mind we waited for the US session to go short with a stop of 19 pips for a potential reward of 75 pips.  Due to this being a counter-trend trade, we keep our stop loss and take profit levels tight and move our original stop loss to a plus 1 as soon as is prudent to do so.  Counter-trend moves tend to reverse abruptly.  With no US economic news, and the USD index dropping, we ride the pair down making it to our Targets 1 and 2.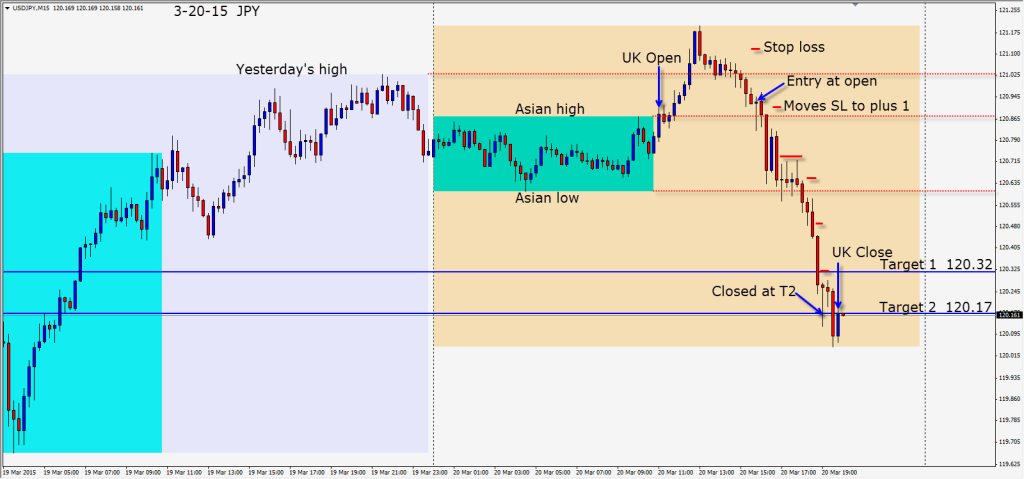 We will see what next week brings us…hopefully back to trend.
Enjoy your weekend!
Back Tuesday if we find a trade.