The NZD has been in a range the past couple of weeks. Yesterday for some reason, it had a big move to the upside from the bottom of its current range. Today the Kiwi began to move up after testing its Asian session lows.  With a stop loss of 18 pips we enter long hoping for a move up to our Targets 1 and 2 (not shown on the chart – .7520 and .7539 respectively).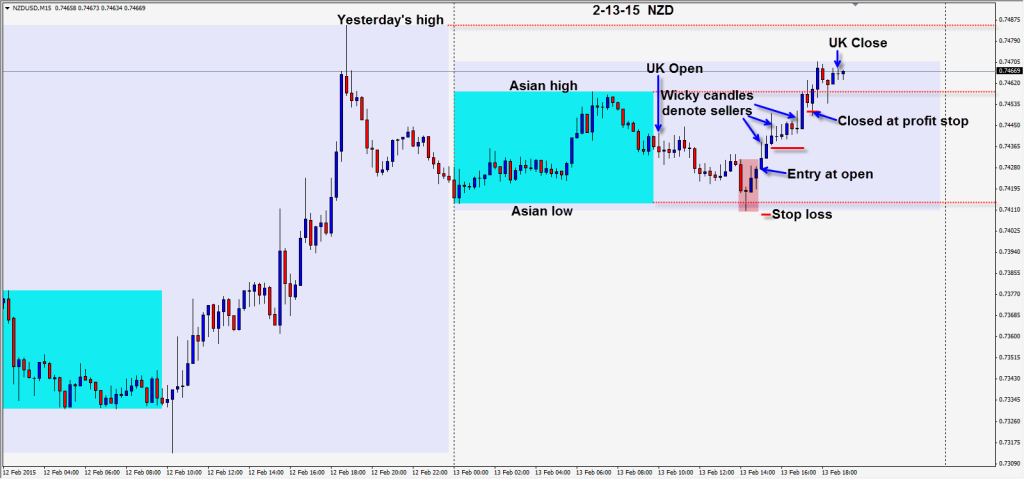 In trading a counter trend move it's a good idea to keep stops tight as the retracement may end suddenly… as flows come in adding to existing positions with the trend.  Reading the candles and important price levels will help in seeing this.  The message is to keep stops tight and not to be greedy!
The wicky candles in this up move are indicative of sellers entering the market.  As the pair reaches the top of its recent range (look at the larger charts) it makes sense that position or range traders may strategically add to their shorts at these levels.  As price moves up to the Asian highs, we tighten our take profit level and as price dips, the market takes us out for modest gains.
Traders will be looking for Fed Chair Yellen's testimony to the Senate Bank Panel on Feb. 24th for any hint of change to current forward guidance. In the meantime the Ukraine and Greece will continue to be in the headlines and for now…crude continues to trade above $50.
Enjoy your weekend and good luck with your trading!
Back Tuesday if we find a trade.