A number of trades set up this session but I especially liked the long JPY again today.
The pair is looking very bullish on the larger time frames, so we look to find our entry long on the 15 minute chart.   Price has been making a series of higher lows.  In the early part of the session price broke above the Asian session highs and pulled back a couple of times retesting yesterday's high.  It then traded sideways with the Asian high acting as support. With little economic news on the calendar today and US treasuries moving higher, the JPY began to move up.
An entry is taken with a 16 pips stop loss and a potential 56 pips to our Target 2.  Price quickly moved up to our Target 1 which we protect as we do our Target 2 level when attained.  We moved our profit stop to Target 1 and our trade is closed the next candle.  Price subsequently moves up to our Target 2 without us.  I remain bullish on this pair and  1.2065 area will be the next important test of price in the uptrend.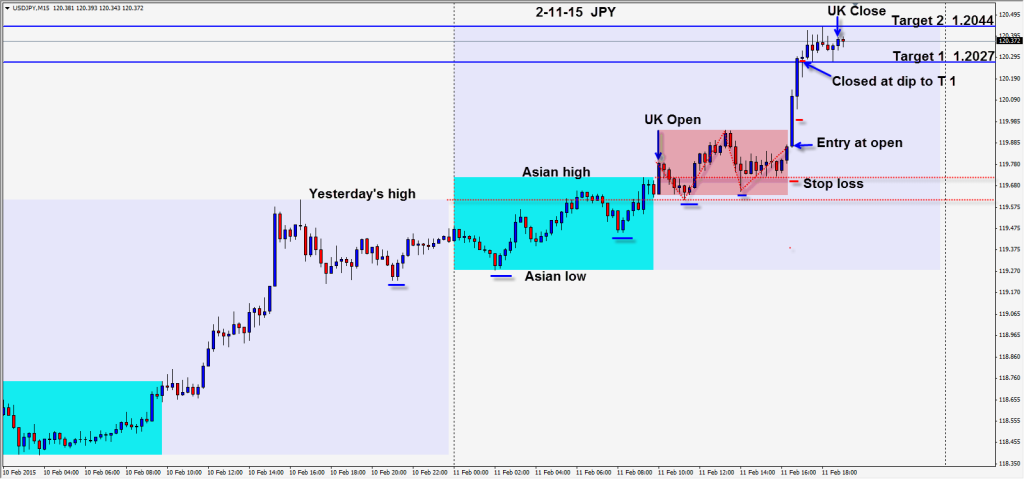 This pair is heavily traded during the US session – for those that are not able to trade the early part of the UK session…it maybe a good pair to consider finding setups on.
Major news for the GBP tomorrow.  Be careful trading in advance of the BOE inflation report.
Good luck with your trading!
Back tomorrow if we find a trade.