We're back for the New Year
As 2015 trading gets underway, the charts are not nearly as clear as they were at the end of 2014.
The EUR looks weak still, but it needs to close below the  1.1750 area on the daily chart for the next leg downward to have traction.  It tried to take out 1.1750 level this session, but bounced higher making a third higher low – in advance of the US Open and an entry long is taken.  The setup provided a greater than 3:1 R/R with a tight stop just below the third higher low.  The temporary USD weakness was confirmed with the GBP moving in parallel and the CHF moving inversely.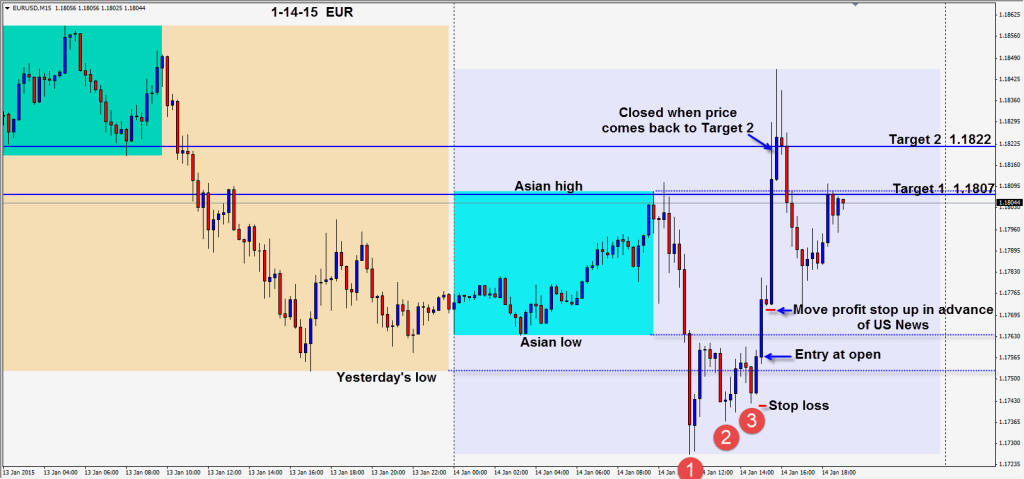 As price moved up, we remove the risk from the trade by placing our stop loss (now a profit stop) higher to lock in a few pips in advance of the US economic news.
Price moves up on the news going through both our Targets 1 & 2.  As price began to fade we closed the trade at Target 2.  Price is not statistically likely to stay above Target 2 and the subsequent wicky candles forecasted the reversal.
Be very careful with counter-trend trading as the volatility in the retracements tends to eat up profits quickly.  It's much easier and more profitable to trade with the trend.  The charts are currently conflicting which makes finding trades very tricky.
The EUR is likely to get some downward momentum after is closes below 1.1750.  The ECB Press Conference next Thursday has a lot of institutional money on the sidelines.
Good luck with your trading!
Back tomorrow if we see something we like.
Michael