A very interesting week concludes with the Draghi's dovish comments creating a huge sell off in the EUR. The SNB's Zurbruegg announcing that they are prepared to buy foreign currency in unlimited quantities because the Franc remains overvalued and the PBOC announce a surprise rate cut.
Having learned many years ago that it is never a good idea to chase a move, nor to stand in the way of an oncoming locomotive… fading a countertrend move once it sets up is an option.
The NZD popped up exceeding its range and then gave three lower highs with wicky candle tops. After the third, a very bearish candle follows as the US traders fade the bullishness. Ideally, the idea here is a move to the session lows, but a move to the Asian low would be excellent too. On the way down, we need to close below the Asian high and continue down through yesterday's high. Alas, as time ran out for the UK session price bounced off yesterday's high three times before the close. This level was particularly sticky because of its significance today to the institutional 60 minute traders.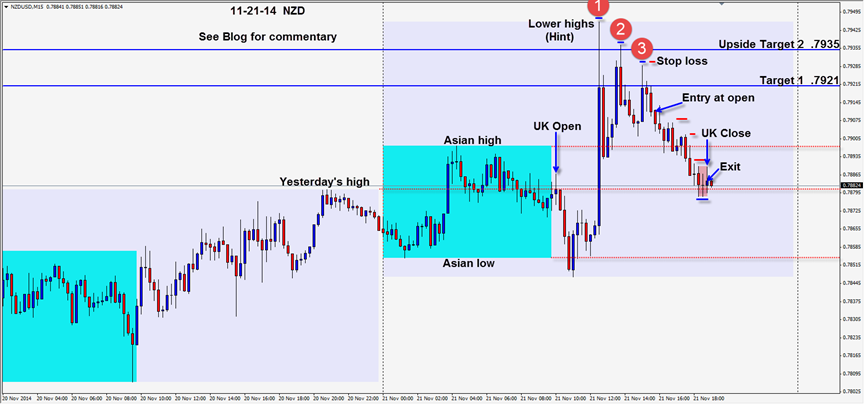 The trade set up with confluence and we execute according to plan. The market gives us what it does… and a positive trade is always a good one.
Good luck with your trading! Enjoy your weekend!
Back Tuesday if we find a trade.