The CHF intrigues many traders at the moment.
The Swiss National Bank Governor Jordan stated that they won't give up the cap for the foreseeable future and that the currency cap is key for preventing deflation.
If the EURCHF (moving currently at a snail's pace) approaches/penetrates 1.2000 – we anticipate an intervention by the SNB.
Although the USD remains strong, a countertrend setup appeared today which exceeded our Reward for Risk ratio of 3:1. With a stop loss above structure we attempt to get down to the Asian low and yesterday's low… then down to our Targets 1&2.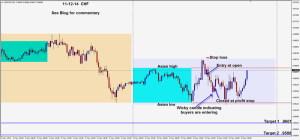 As this is a countertrend trade, the idea is to be nimble and definitely not greedy. Always heed what price is telling you. As price moved down and we get a wicky bottom to our bearish candle, we tighten our profit stop for the minimum we want out of this trade – should it reverse.
Price takes us out and we move on with modest gains. What is most important is that we executed according to our rules and trading plan.
I have found trading to tricky the past couple of weeks. Be very selective in choosing trades and if trades don't meet your criteria – come back tomorrow. The market isn't going anywhere.
Good luck with your trading!