I was away last week and the markets have gone from predictable and trending in the last 2 weeks of September to gyrating with large counter-trend moves for the first 2 weeks of October.
Although the EUR and GBP continue to look weak to me…it's been really hard to find an entry short in the major pairs. The EURCHF continues to move downward and may test the intervention level of 1.2000 shortly, but it doesn't move enough in a session to attract my attention. Gold has moved nicely upward with the current USD weakness. The trend is murky at the moment as we scan through the charts, after being so clear in September.
The good news is the currency pairs have really picked up in terms of daily range and we look to be returning to the more normal ranges of where we were a couple of years ago.
Currently the Swiss Franc is looking pretty strong and the USD and GBP are looking weak. As I have been unable to find a comfortable entry in the major pairs, I thought I would revisit the GBPCHF which has come alive again – unlike the EURCHF.
As the USDCHF started to roll over today – the GBPCHF did the same. An entry short is taken with a stop loss above today's high. As price moved down the stop loss is moved to plus 1 pip to remove the risk from the trade in the event the US traders reverse the move. Price moves down where it tests and retests the Asian low. We then have a move down to our Target 1 where we allow for a retest, but are not willing to give back many pips once this level is attained. We close the trade to protect our profits only to see price drop substantially further without us.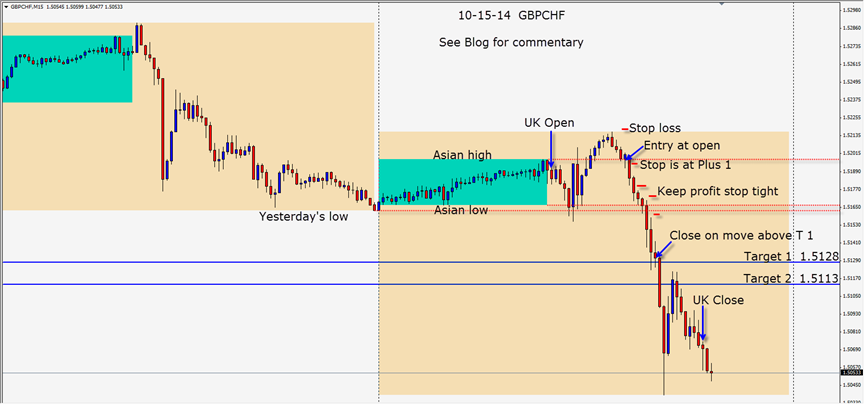 An easy way to get a handle on the USD is to look at what gold is doing – as they move inversely. In my opinion the weakness in the USD is temporary. October tends to be a volatile month for the US stockmarkets and gold seems to be benefitting at the moment. Watch the EURCHF as it moves to 1.2050 and especially the 1.2000 level for a bounce upward. Options will be very active at these levels.
When in doubt especially in such volatile markets, it's better to step aside and come back the next day. Don't force any trades and keep your stops tight.
Back tomorrow if we find a trade.